Dynamics 365 is a brand rather than a product, and as such there are a number of different products under that brand. There are two basic versions of Dynamics 365 Manufacturing ERP systems, each of which supports manufacturing and supply chain businesses.
The older product in the Dynamics 365 product line is Dynamics 365 Finance and Operations. Finance and Operations were previously known as Dynamics AX and Dynamics 365 Enterprise. The newer product is Microsoft Dynamics 365 Business Central. Business Central was previously known as Dynamics NAV. Both products originated in Denmark, and were acquired together by Microsoft in about 2001.
Dynamics 365 Manufacturing comes in 2 versions: Finance and Operations and Business Central
Sabre works exclusively with customers with Dynamics 365 Business Central, but we know enough about Dynamics 365 Finance and Operations (aka Dynamics AX) to help you in your decision. Each of these systems serves a different market, and both Dynamics 365 Manufacturing ERP platforms are robust and well suited to those markets.
In this article, I am going to try and give you some guidance as to what the best choice would be for your business. I'll ask a series of questions and depending on whether the answer is yes or no, you can score one for Business Central or for Finance and Operations.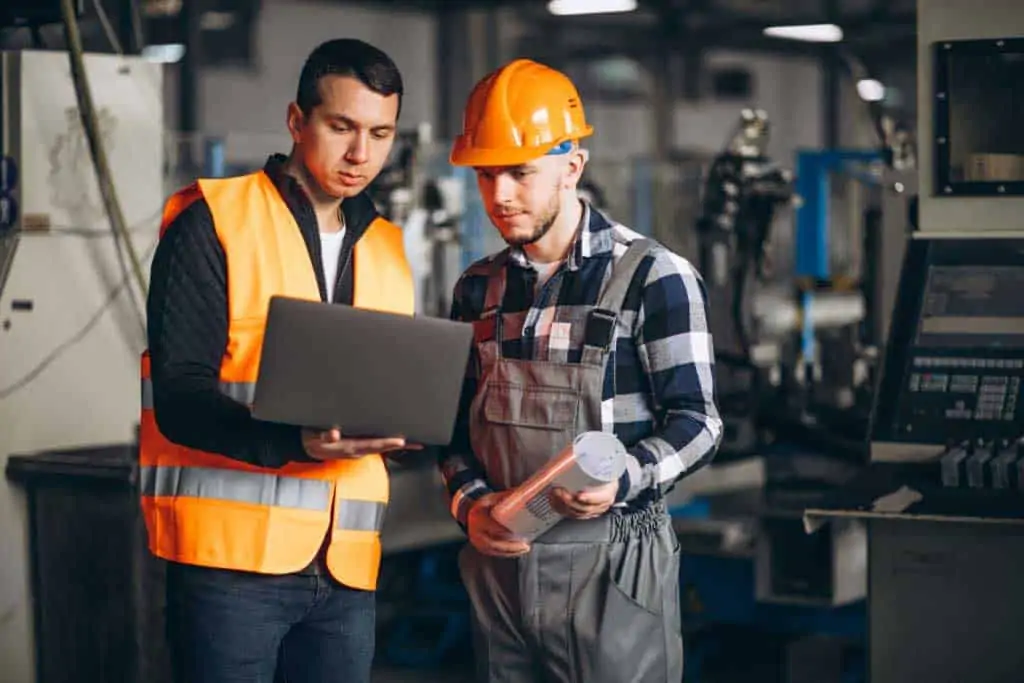 #1 – Do you have an IT Department
The first question to help choose the right Dynamics 365 Manufacturing ERP is about an IT department. We are not talking about having one IT technician or network administrator here. A department should have a manager or Chief Information Officer, one or more systems analysts, one or more programmers, some network administrators and desktop support, and probably a project manager.
Score 1 for Business Central if this seems overkill. Score 1 for Finance and Operations if you definitely have that kind of team.
#2 – Is your budget over $500,000
This is a really easy way to measure which Dynamics 365 Manufacturing solution is the right one. Microsoft Dynamics 365 product Pricing is really different between the two systems. Finance and Operations start at $180 per month – but most manufacturing companies will be paying about $210 per month per user. The minimum user count is 20, so that's about $4200 per month to start.
Note: All this pricing is in USD
Business Central starts at $70 per month and has no minimum. For full Dynamics 365 manufacturing in Business Central, you'll get the Premium version for $100 monthly. Sabre finds most customers start with about 10 users during training, so you can get going for about $1000 a month.
In addition to the cost of the software, the training for Finance and Operations is well known to be much higher than for Business Central. The system is much more complex and advanced, and whether you use it or not, the extra features must be accounted for in training. Expect to spend no less than $250,000 in training Finance and Operations.
Sabre Training and Implementation programs for Dynamics 365 Manufacturing with Business Central start at around $30,000 plus support costs – and can get up to $145,000 for very complex implementations (usually companies with at least 30 full users). Even including the software licensing during training – customers can easily keep an implementation under $40,000.
In this case, you may not be able to exclude Business Central based on price, but you can definitely exclude Finance and Operations. If the Finance and Operations price is out of your budget, score one for BC. Otherwise give both products a mark.
If you want to learn more about Business Central you should read the Sabre Limited Dynamics 365 Business Central information page.
#3 – Do you Need Enterprise Financials
Do you have financial requirements that include things like:
Multi-Jurisdiction taxation (generally Europe, Asia and North America – not just Canada and/or the USA) and regulation compliance
Sarbanes-Oxley and other public company requirements
Multi-Currency, Multi-Location, Multi-Entity analysis
Government contract overhead and rate management and reporting
If you are looking at these and thinking "yes – we definitely need advanced financials like this" then the Dynamics 365 Manufacturing ERP that gets the point on its scorecard is Finance and Operations. If you do not need these, then you can give both products a mark.
#4 – Are you a Mixed Mode Manufacturer
A Mixed-Mode manufacturer is one that does a combination of types of manufacturing. For instance, if you process manufacturing (eg: Chemical, Food, Cosmetic, or Pharma) and separately manufacture packaging in a discreet manufacturing environment – that is mixed mode. If you both do volume production of repetitive product, and engineer to order – that is mixed mode.
This condition is especially true if you have a vertically integrated manufacturing business with locations that supply each other with product.
Looking at the Dynamics 365 Manufacturing features, you should score 1 for Finance and Operations if any of these are true:
You have at least 3 manufacturing facilities in at least 2 different countries that supply each other
You have at least 5 different manufacturing facilities with 3 different modes of manufacturing that supply each other.
You have over 500 manufacturing employees.
You could have any one of those 3 bullets and still give Business Central a point, but if you have 2 or more of these as true then the point goes to Finance and Operations and BC gets zero.
#4 – Are you too big for Business Central
The last test for Dynamics 365 Manufacturing is going to check to see if you are too big for Business Central. Business Central is a bit too small of an ERP for most companies of over 100 full ERP users (full users would be accounting, purchasing, logistics, supervisory, scheduling, etc…) excluding the time tracking or material handling users. That would be a $10,000 a month Business Central subscription, about $20,000 a month for F&O.
This isn't a hard and fast rule, but unless the business has a very uniform business model across that many users, it's unlikely that Business Central is the right product.
Score 2 points for Finance and Operations if you are over 100 full users.
Dynamics 365 Manufacturing Infographic
Below is an infographic we've created that explains the Finance and Operations vs Business Central in a more visual way.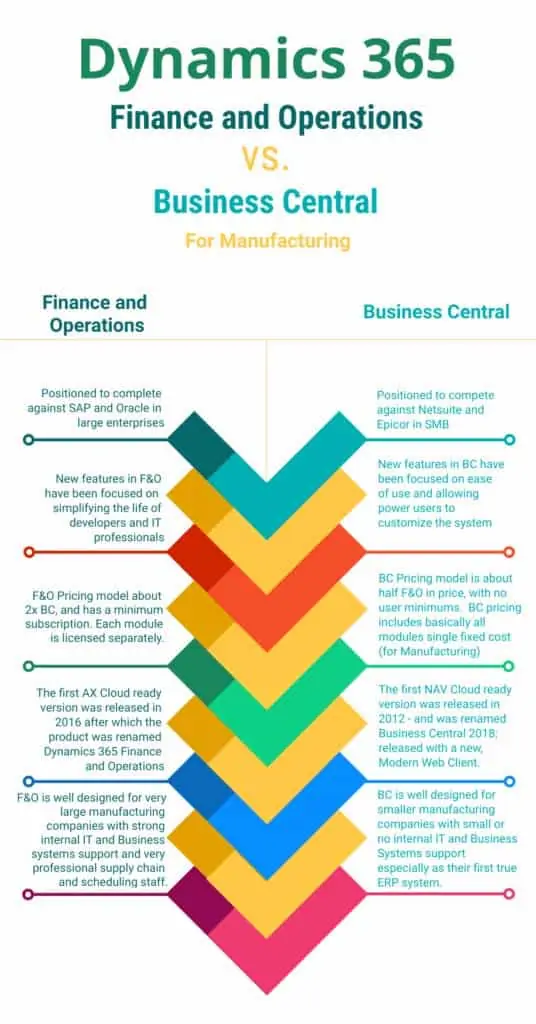 Need Some Help?
If you need help with a Dynamics 365 Manufacturing systems choice, give us a call at: (519) 585-7524 x.45 or contact our team, we're excited to talk with you soon!