2020 saw one of the most profound changes in the use of technology at work since the Y2K crisis. Here at Sabre IT, we assisted every one of our customers in moving to a remote work model. One of the digital transformation examples in manufacturing was using Microsoft Teams to enable communication.
We have entirely transitioned to remote work here at Sabre It Solutions. Luckily almost everything we do can be done from our various home offices. In addition, virtually all our customers moved at least some of their staff to a hybrid work model. It seems a lot of businesses are open to continuing remote work and digital transformation in manufacturing where it makes sense.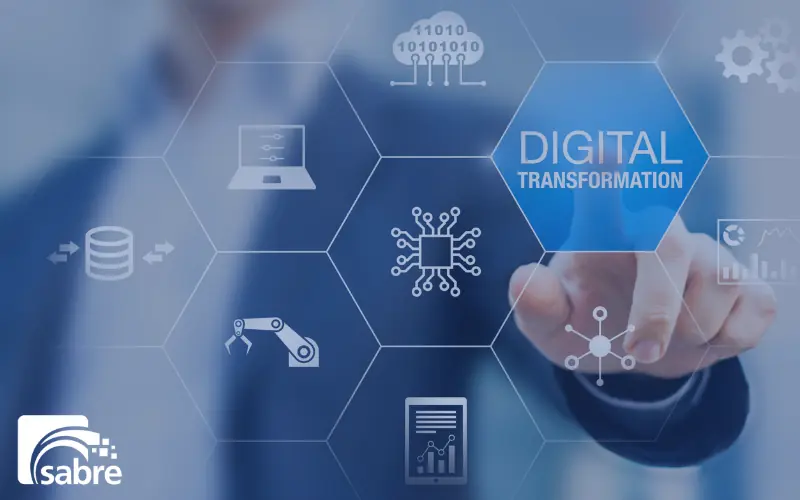 Remote Work is more productive when using Microsoft Teams
There are major benefits to working remotely. According to an article on remote work by Business News Daily, studies have shown that working from home can add as much as three additional weeks of productivity for employees. The same article cites research that shows employees have a reduction of 10 minutes per day of distractions (less talking at the water cooler).
There are still employers who distrust remote work. These companies will need to change. Evidence shows it can be productive to let employees work from home, and their competitors take advantage of it. Eventually, it will become a competitive disadvantage to force employees to work from your offices.
At Sabre It we've been able to recruit staff from further away than we would normally have even tried. In the tight labour market for high-technology workers, expanding the geography we would hire from can really help.
Using Microsoft Teams for Remote Work
Sabre IT has selected Microsoft Teams as our preferred work-from-home technology as Teams is one of the key digital transformation examples in manufacturing. It has taken us a while to develop the right skills to use Microsoft Teams effectively. We expect some new capabilities to be introduced and we will definitely expand our use of this vital communication tool.
Here are the top changes we would make to our use of Microsoft Teams to be a more effective organization.
Connect our VOIP Phones to Teams
Sabre It Solutions uses VOIP telephone technology, and for some staff, we have enabled their extensions to be used from home. The reality is that we are on Teams every day and have many calls and chats with other team members. Integrating our work phone system into Teams is a no-brainer and perfect for digital transformation in manufacturing.
The benefits are massive and is one of the clear digital transformation examples in manufacturing. We will be able to transfer calls to our other team members and even conference-in customers with staff while on a teams call. We'll be able to set programming to auto-direct customer calls to Team channels and ensure a warm body can answer every call. The fact that Teams runs on our Smart Phones already means that getting a call into the office will ring our phones and computers.
Enhance Boardroom and Home Office Video Meetings
Technology companies like Logitech are introducing better Microsoft Teams boardroom and home office technology. The explosion of work-from-home in 2020 was totally unexpected. You can be sure that design teams made a big effort to redefine work-from-home video technology. Vendors like Zoom and Microsoft have been rapidly introducing features into the software. Cameras and microphones need to catch up in many ways. These are just a few examples of digital transformation in manufacturing.
Expanding our Teams' technology so that the boardroom experience is better (once we have at least some of our staff working from the office) and also making things easier for staff working from home will be a priority.
Connecting website Live Chat to Teams
Since our entire organization lives and works on teams – even late into the evenings and on weekends –Live Chat via Teams would be amazing. We use another live chat technology and recently our marketing team started chatting with a visitor. Since not everyone can access the chat agent, we had to relay questions and answers. Being able to use Teams for a live chat would allow marketing to pull in subject matter experts to answer questions. We could enhance our live chat feature to also provide technical support. This is a major goal for Sabre IT.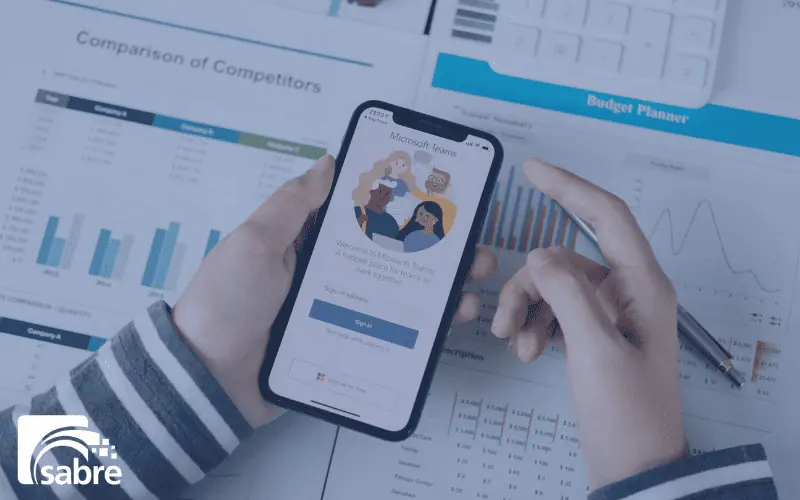 Digital Transformation in Manufacturing by Using Teams on All Devices
Most of our staff already have Teams on their smartphones and other devices but not everyone. We'll push to make sure all the staff members are running Teams on their devices. We are also going to work with customers to make sure they are putting Teams on their staff devices also. The great security features Microsoft is using leaves us feeling comfortable doing that.
Planning our Teams Channels and File Storage
Teams is not just a chat and meetings technology. It's a collaboration and organization tool. We use Teams Channels but not nearly to their full capabilities. Sabre IT will push to use Teams channels correctly and bring what we learn to our customers.
Teams is also beginning to expand into and overlap with SharePoint. We have been using SharePoint for all our core shared folders across the entire organization. As Teams expands into this space, we'll be leveraging blended Teams and SharePoint.
Teams Customizations with Power Platform
Sabre It Solutions and our sister company Sabre Limited have always had a strong software development and customization skill set. We are going to be working on increasing our use of Power Platform tools inside our Teams environment. We can use Power BI, Power Apps and Power Automate within the teams' environment to help us automate and simplify and automate our processes.
Final Thoughts on Digital Transformation Examples in Manufacturing and Using Teams
Here at Sabre It Solutions, we are deeply integrated into Microsoft for remote work. We have a large investment in the cloud in the form of Microsoft Azure servers for our customers. We believe strongly that businesses will also begin moving to a virtualized and cloud-enabled infrastructure in the coming years. Microsoft Teams and its integration into both the entire Microsoft stack of products and our everyday work is key to Sabre IT's future. Teams especially is perfect to showcase digital transformation examples in manufacturing.
We think you should also look at this unified communications model. We believe the future will bring phones, customer chat, project management, line of business (ERP and CRM) applications, etc. all under the banner of Teams. Teams will become the glue that holds them together. Using Microsoft Teams effectively is critical to that future.
Want to learn more?
If you want some training and consulting on the best use of Teams, just give us a call. Sabre IT Solutions can help you with all Microsoft technologies. We can help you with every aspect of moving to a sustainable, long-term remote work environment. We understand how remote work will change business and offer our advice for free.
Contact Us
Give us a call at 226-336-6259 or contact us at itsales@sabrelimited.com today to discuss your needs.