Manufacturing companies often rely on a variety of IT services to support their operations and enhance efficiency. Some of the most common types of IT services for manufacturing include:
Managed IT Services: These services provide ongoing monitoring, maintenance, and support for a manufacturer's IT infrastructure. This can include server management, network security, and data backup to ensure systems are always up and running.
Co-Managed IT Services: In a co-managed IT model, the manufacturing company collaborates with an external IT service provider to share responsibilities. This can be especially useful when manufacturers have in-house IT teams but need additional expertise or support.
IT Consulting: IT consultants provide expert advice to help manufacturing companies make informed decisions about their technology strategies. They can assist with technology planning, vendor selection, and IT project management.
Cloud Services: Manufacturers often leverage cloud services for data storage, backup, and software applications. Cloud services can provide scalability, cost-efficiency, and remote accessibility.
ERP (Enterprise Resource Planning) Implementation and Support: ERP systems are critical for managing manufacturing processes, inventory, and supply chain. IT services can help implement and maintain these complex systems.
Cybersecurity Services: Manufacturing companies handle sensitive data, making them prime targets for cyber threats. IT services related to cybersecurity include threat detection, incident response, and employee training to mitigate risks.
These IT services for manufacturing companies are crucial to stay competitive, enhance productivity, and adapt to the evolving technological landscape. The specific services needed can vary based on the size, industry, and goals of the manufacturing business. At Sabre Limited, we're experts in manufacturing. We understand the various levels of IT services that your business may need.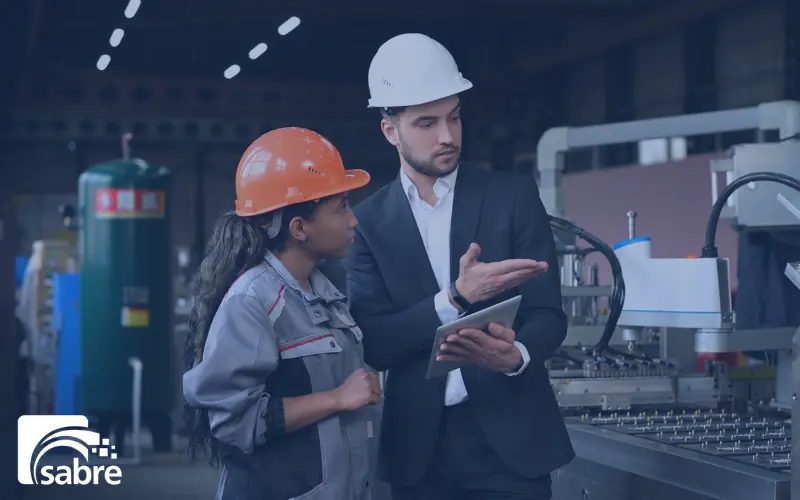 Managed IT Services for Manufacturers by Sabre Limited
The adoption of digital transformation is ushering in a new era of operational change. As manufacturing companies embrace the 4th Industrial Revolution marked by IoT, data analytics, and connectivity, the significance of a robust IT infrastructure cannot be understated. Sabre Limited offers Managed IT Services tailored to meet the distinct needs of manufacturers, ensuring that their IT systems operate seamlessly and effectively support their digital transformation journey.
Cybersecurity and Manufacturing
Cybersecurity stands as a fundamental aspect of Sabre Limited's Managed IT Services for Manufacturers. In the contemporary world, manufacturing companies must give priority to cybersecurity to safeguard their operations and sensitive data. Our services are meticulously designed to align with the cybersecurity requisites of insurance companies and the controlled goods certifications relevant to military and law enforcement. Our packages are structured to cater to the most common requirements specified by cyber insurance forms.
Four Core Elements of Sabre Managed IT Services
ERP Services: While not every manufacturing customer requires ERP services, for those utilizing Dynamics 365, Sabre offers the Business Excellence Managed ERP program to streamline operations and enhance efficiency.
Proactive and Preventative Maintenance: This core service ensures the reliability and performance of your IT systems, including Sabre Cybersecurity Services for advanced packages.
Help Desk: While self-managing tech-savvy teams exist, our Helpdesk Services provide valuable support by delivering prompt and efficient assistance for manufacturing IT needs.
Fractional CIO (vCIO): For manufacturing businesses deeply committed to digital transformation, a vCIO can serve as a facilitator, coach, leader, and expert. Sabre offers various levels of vCIO services to guide your digital transformation journey.
Why Managed IT Services are Essential
Managed IT services are not merely an operational convenience; they are a fundamental cybersecurity requirement. Insurance companies now mandate these services for cyber insurance coverage, and many of our packages align with the demands of customers selling to the Department of Defense who need advanced cybersecurity to achieve CMMC certification.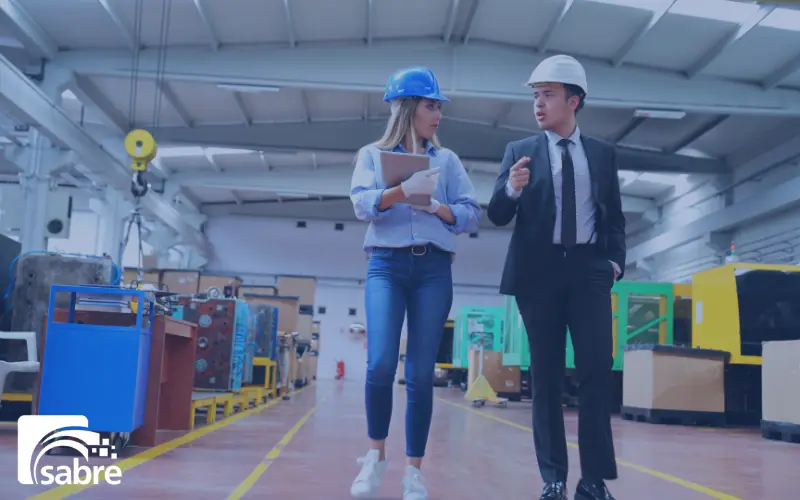 Co-Managed IT Services for Manufacturing Companies
Co-Managed IT services represent a collaborative approach that empowers manufacturing companies to combine the expertise of their in-house IT teams with the specialized knowledge and support of external IT service providers like Sabre Limited. This partnership creates a dynamic solution tailored to the unique needs of manufacturing companies, allowing them to effectively manage their IT infrastructure.
The Co-Managed IT Advantage
Co-Managed IT services recognize the value of existing internal IT teams within manufacturing companies. They build on this foundation by offering specific support and expertise, ultimately enhancing the overall IT capabilities and efficiency. Here are key advantages of Co-Managed IT services for manufacturing:
Augmentation of In-House Expertise: Manufacturing companies can leverage the experience and skills of their internal IT team while benefiting from external professionals who bring fresh insights, best practices, and specialized knowledge to the table.
Flexible Support: Co-Managed IT services are highly adaptable, allowing manufacturing companies to scale their external IT support according to their evolving needs. This flexibility ensures that the right resources are allocated precisely where and when they are required.
Improved IT Performance: Collaboration with external IT experts elevates the performance and reliability of IT systems within the manufacturing environment. Co-managed teams can focus on proactive monitoring and addressing IT issues before they escalate, leading to enhanced system uptime.
Enhanced Cybersecurity: Cyber threats are a major concern for manufacturing companies. Co-Managed IT services provide comprehensive security solutions, combining the strengths of internal and external teams to safeguard critical data and systems.
Strategic Guidance: Co-managed partnerships offer valuable strategic guidance for manufacturers, helping them align their IT strategies with business objectives and ensuring that IT investments contribute to long-term growth and success.
Collaboration for Success
Co-Managed IT services are built on the principle of collaboration. Manufacturing companies partner with external IT experts who complement their internal teams, creating a synergy that leads to more efficient IT operations. This collaborative approach aligns IT resources with business goals and positions manufacturing companies to respond effectively to the ever-evolving technology landscape.
Three Key Components of Sabre's Co-Managed IT Services
The Stack: This component provides your IT department with essential software tools to enhance their efficiency substantially. These tools are carefully selected to maximize both cybersecurity and staff productivity, aligning your capabilities with those of professional Managed Service Providers.
Support and Escalation: Your team becomes an integrated part of a larger group of IT professionals, granting them access to peer support when needed. The Sabre IT team is readily available to offer support for challenging issues, assist during busy periods, or provide an extra set of eyes on complex problems.
Coaching: Coaching, while optional, is a valuable feature of Co-Managed IT services. Your team gains regular access to senior network engineers who provide guidance and training to improve your team's capabilities continually.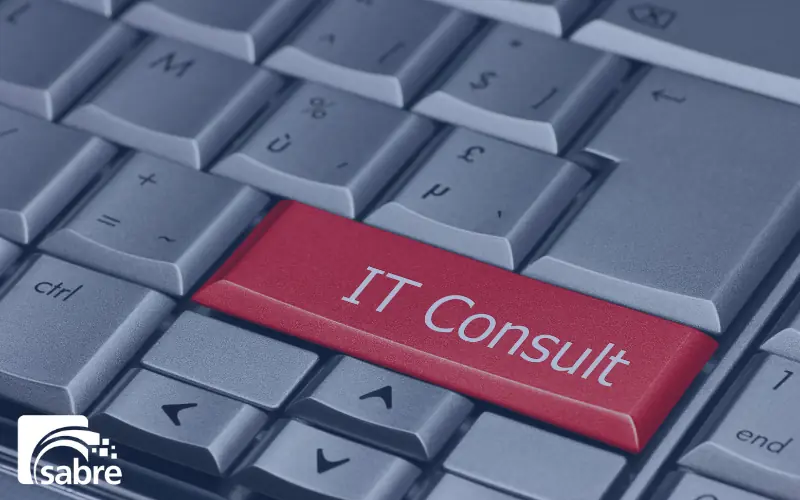 IT Consulting for Manufacturing Companies
IT consulting is a valuable service that provides you with expert guidance and strategies to optimize your technology infrastructure and IT operations. As you're well aware, manufacturing companies like yours face a range of complex challenges, from integrating advanced technologies to enhancing operational efficiency and ensuring data security. IT consulting services are designed to address these challenges and help you leverage technology to achieve your business goals. 
Our tailored IT consulting services encompass a wide array of offerings, each designed to address the unique needs of manufacturing companies:
Software Selection Services: Choose the right software solutions, whether it's Warehouse Management, MES, or Product Configurator, with our expert guidance. We take the complexity out of software selection, reducing risk and increasing the likelihood of success.
Cyber Security Consulting: If you're a manufacturing company involved in defense, navigating the CMMC requirement can be challenging. Sabre specializes in manufacturing cybersecurity and can assist you in preparing for your CMMC audit, following the NIST-800 171 standard. We offer CMMC-compliant solutions and recommendations, including cybersecurity tools and endpoint protection.
Cloud Migration Services: Sabre's expertise extends to cloud migration, particularly with Microsoft Azure. We can help you make informed decisions about moving your IT infrastructure to the cloud, ensuring a seamless transition.
Additional IT Consulting Services: Sabre's experienced consultants can assist you in various aspects of your IT journey. Whether you need IT auditing and analysis to understand your current state, strategic IT planning, project management for critical IT projects, knowledge preservation, or disaster recovery planning, we've got you covered.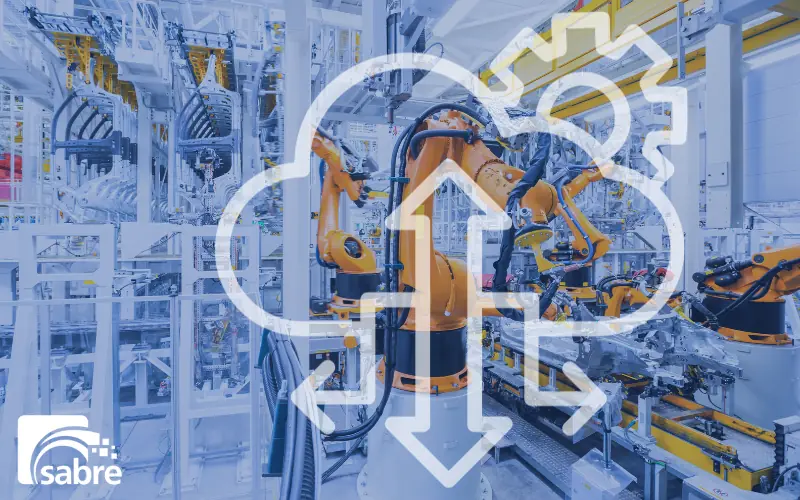 Cloud Services for Manufacturing
Nowadays, everyone is sending and storing data in the cloud. Manufacturers are increasingly harnessing the power of the cloud to streamline their operations, foster innovation, and remain competitive. Cloud services are reshaping the manufacturing sector in more ways than one.
One of the standout benefits is increased efficiency, as cloud-based solutions enable seamless remote access to essential data and applications, facilitating collaboration and minimizing downtime.
Moreover, cloud services offer cost savings compared to traditional on-premises infrastructure. They operate on a scalable, pay-as-you-go model, reducing overall IT expenditure and providing financial flexibility. Collaboration within manufacturing teams is enhanced through cloud-based tools that enable real-time communication and document sharing, resulting in streamlined processes and improved outcomes.
Data Security and Compliance in the Cloud
Data security and compliance are paramount for manufacturers, and cloud providers offer advanced security measures and compliance certifications to protect sensitive manufacturing data and ensure industry-specific regulations are met. Additionally, cloud services encompass disaster recovery and backup solutions, ensuring business continuity in the face of IT failures or unforeseen disasters.
The scalability of cloud services is a valuable asset for manufacturers, allowing for easy expansion to accommodate increased demand and data storage requirements. Cloud technology opens doors to innovation, with cutting-edge solutions like IoT and advanced analytics enhancing production efficiency and product quality.
Embracing cloud technology gives manufacturing companies a competitive edge, enabling them to respond swiftly to market fluctuations and customer demands.
Sabre's Azure Cloud for Manufacturing: Streamlining Your Operations
Azure, hosted by Microsoft, offers an unparalleled cloud solution for manufacturing companies. Its flexibility and scalability make it the perfect choice to meet your evolving IT needs. Azure ensures 24/7 reliability, making it a robust platform for remote work, a necessity in today's world.
By hosting AutoCAD Vault, SolidWorks PDM, and drawing management systems, Azure streamlines your design processes. It also enables remote access to your ERP system, ensuring your team can efficiently manage operations from anywhere. Moreover, with GPU capabilities, Azure allows you to run CAD software remotely, converting basic PCs into high-powered workstations. Additionally, Azure's cost-effective storage options make it an ideal choice for preserving and accessing quality image data.
Sabre's Azure Services for Manufacturing are designed to save you money and optimize your cloud resources. With our expertise in Azure infrastructure and Microsoft Cloud Solutions, we guide you through the cloud journey, ensuring you make the right choices. Our Azure Management fee offers financial oversight and efficiency, helping you maintain control of your budget while leveraging Azure's power.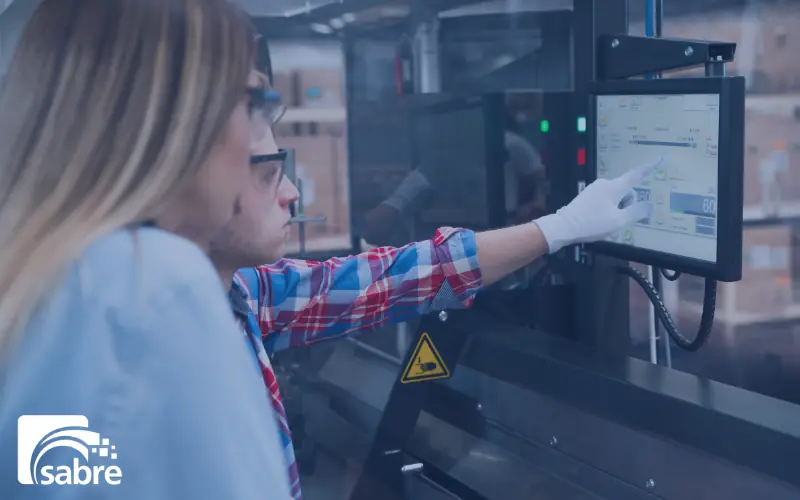 ERP Implementation and Support for Manufacturing
The successful implementation and support of Enterprise Resource Planning (ERP) systems are pivotal to streamlined operations. ERP solutions act as the central nervous system of your manufacturing business, connecting various functions to drive efficiency and productivity.
ERP Implementation, the process of introducing or upgrading ERP systems, is a critical phase in any manufacturing company's growth. It demands careful software selection and setup, making it a complex and costly decision. After implementation, ongoing ERP Support is essential to ensure the system's smooth operation. This support includes services such as system assessment, strategic planning, project management, knowledge preservation, and disaster recovery planning.
Business Central as Your ERP
At Sabre, we've been implementing and supporting Business Central for small to medium sized manufacturers for decades. We know manufacturing and we know ERP.
Microsoft Dynamics 365 Business Central offers a range of benefits for businesses, particularly in the areas of enterprise resource planning (ERP) and customer relationship management (CRM). Here are some key advantages of using Microsoft Dynamics 365 Business Central:
Comprehensive Business Management: Dynamics 365 Business Central integrates various business processes, including finance, sales, marketing, and customer service. It offers a unified platform to manage your business operations, improving overall efficiency and decision-making.
Scalability: Business Central is suitable for both small and medium-sized businesses and can scale as your company grows. You can start with the essential modules and expand your usage as needed.
Real-time Insights: Business Central provides real-time analytics and reporting, allowing you to make data-driven decisions quickly. It offers insights into financial performance, inventory, sales, and more.
Enhanced Productivity: Automation of routine tasks and workflows saves time and reduces errors. Employees can focus on more valuable, strategic tasks.
Customer Engagement: The CRM capabilities of Dynamics 365 Business Central enable businesses to manage customer relationships effectively. You can track leads, opportunities, and customer interactions, improving customer satisfaction and loyalty.
Financial Management: The financial management module helps with budgeting, forecasting, and financial reporting. It streamlines accounting processes and ensures compliance.
Inventory Management: Manage your inventory efficiently, reducing carrying costs and ensuring you have the right products available at the right time.
Integration: Business Central can integrate with other Microsoft products like Office 365, Power BI, and Azure. It also supports third-party applications, allowing for a seamless user experience.
Customization and Extensibility: You can tailor Business Central to your specific business needs through customizations and extensions. This flexibility ensures that the system adapts to your unique requirements.
And many more! It's why Sabre Limited and our customers love Business Central so much.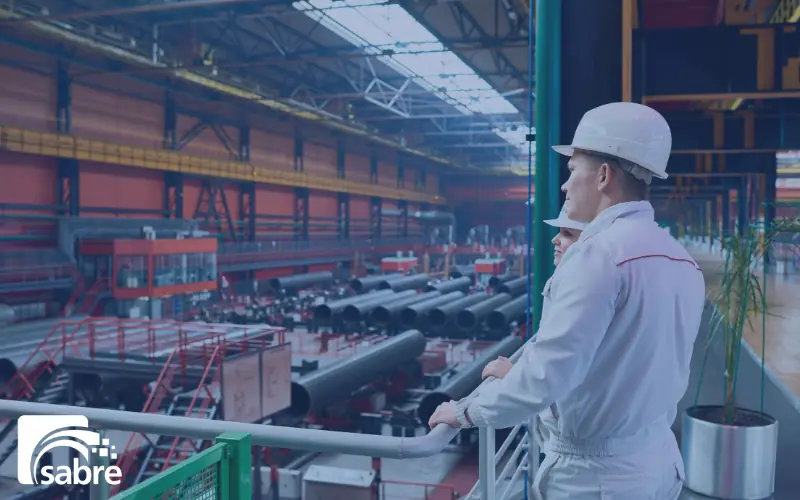 Cybersecurity Services for Manufacturing
Cybersecurity threats have become a growing concern when it comes to manufacturing. Sabre Limited addresses these vulnerabilities with a comprehensive suite of cybersecurity solutions tailored to the manufacturing sector. Our approach encompasses 24/7/365 security monitoring, threat awareness and prevention, compliance and risk management, endpoint protection, network security, SIEM (Security Information and Event Management), vendor risk management, regular audits and assessments, security awareness training, and data backup and recovery.
Security Operations Center (SOC): Our expert SOC operates around the clock, diligently monitoring your network for security alerts and anomalous activities. Using advanced technology and human expertise, we rigorously investigate and neutralize potential threats as they arise.
Threat Awareness and Prevention: We integrate software and hardware components into your infrastructure to meticulously log security-related events. Through a combination of AI-driven analysis and manual scrutiny, our SOC identifies and addresses potential threats in real-time.
Compliance and Risk Management: In the manufacturing sector, regulatory compliance, such as the Cybersecurity Maturity Model Certification (CMMC), is crucial. We provide a CMMC compliance toolkit, conduct audits, and offer CMMC coaching to ensure your security aligns with essential compliance standards.
Endpoint Protection: We extend our protective measures to all endpoint devices, including laptops, desktops, and IoT devices. This safeguards your operation against a range of cyber threats while keeping your software up to date to minimize vulnerabilities.
Network Security: Our solutions secure your network infrastructure, employing firewalls, encryption, and access control to defend against potential intruders and ensure your sensitive data remains confidential.
SIEM (Security Information and Event Management): A cornerstone of our cybersecurity strategy, SIEM software logs and analyzes activity across various devices and network points, from firewalls to cloud services. It employs machine learning to detect suspicious events, which our SOC then addresses in real-time.
Vendor Risk Management: In manufacturing, supply chains often pose vulnerabilities. We assess and manage the risks associated with third-party vendors to secure your ecosystem against potential threats.
Regular Audits and Assessments: Routine cybersecurity assessments and audits are essential to keep your defenses updated. Sabre Limited conducts regular analysis of your systems, identifying vulnerabilities and providing guidance for improvement.
Security Awareness Training: A well-informed workforce is vital to reducing cybersecurity risks. We offer training and resources to educate your staff on safe online practices, minimizing the risk of human error in cyberattacks.
Data Backup and Recovery: To ensure business continuity, our solutions encompass secure data backup and recovery strategies, safeguarding your manufacturing processes against data loss.
As manufacturing companies increasingly become targets for cyber criminals, partnering with Sabre Limited for cybersecurity services is your safeguard against threats. Our tailored solutions ensure your manufacturing operation remains secure, compliant, and resilient in the face of ever-evolving cyber challenges.
Need Help?
If you're still not exactly sure what kind of IT services you need for your manufacturing company, reach out to us at Sabre Limited. These are the things we live for and we love educating those who are interested in learning more!
If you'd like to book a call with us or send us an email, we'd be happy to answer any questions around IT services for manufacturing that you might have. Give us a call at 226-336-6259 or contact us at itsales@sabrelimited.com today to learn more.