October is the month Microsoft deploys their "Fall Wave" or "Wave 2" software releases. The 2021 Business Central manufacturing features have added to the already impressive set of manufacturing capabilities in Dynamics 365 Business Central (formerly NAV).
Sabre Limited are experts in Business Central for Manufacturing, and we have always focused on features that you as a manufacturing company need. You should also keep your eye on our YouTube channel for videos of these and other 2021 Business Central manufacturing features.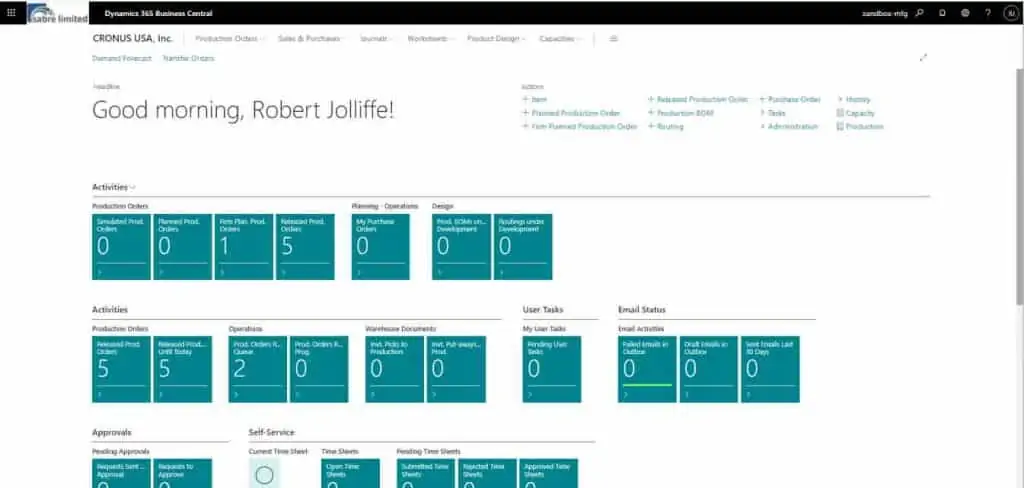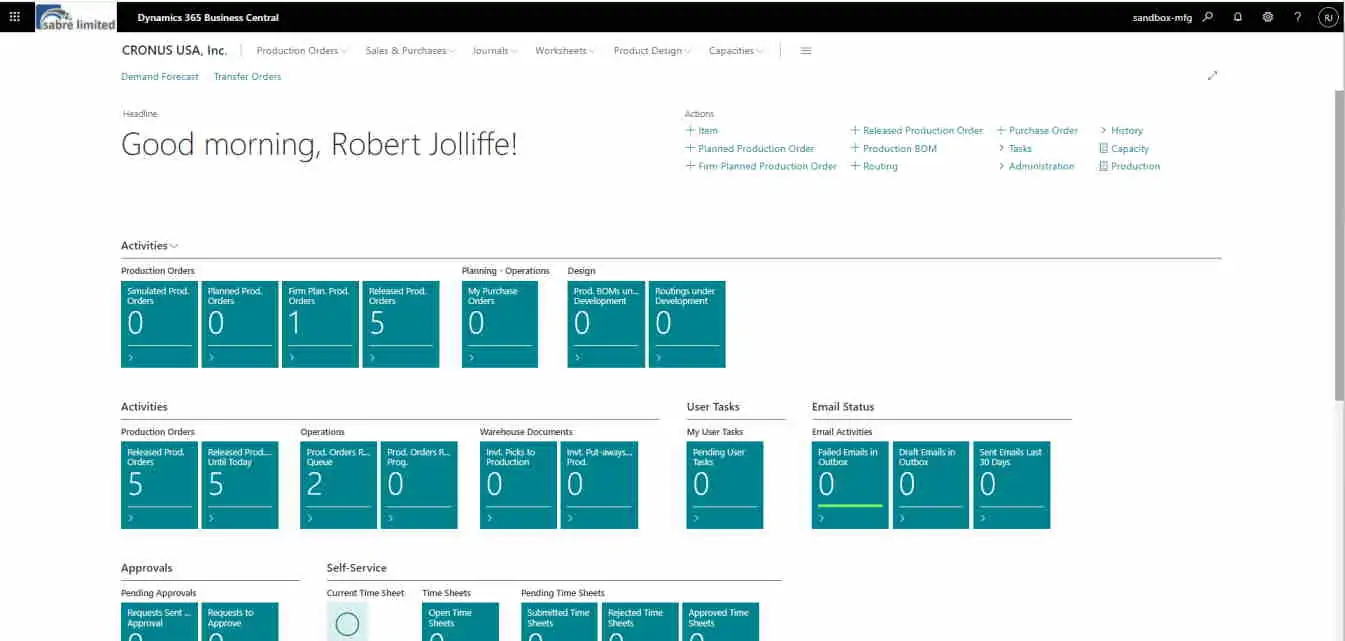 2021 Business Central Manufacturing New Features
Microsoft releases their new versions of Dynamics products every Spring and Fall, usually in April and October. These are called "Release Wave 1 and Release Wave 2."
This article includes the list of the features we feel will best benefit manufacturing companies using Business Central. This is our take on the top new features.
Generic Feature Improvements to Business Central
These generic feature improvements are going to help every kind of business, not just manufacturers. Still – we do feel that manufacturing companies using Business Central will benefit from most of these.
Excel Improvements
One of the best things about Dynamics Business Central is the deep integration with the rest of the Microsoft product lines, including Office.
2021 Business Central manufacturing users can enjoy enhanced integrations with Microsoft Excel. Microsoft has added more places to use the Edit in Excel feature, such as on Sales Lines which is very handy for manufacturing businesses.
The big area where we see this being used would be updating sales order releases in industries with forecasts and releases.
Teams Improvements
Microsoft is investing heavily in the Teams to Business Central integrations.
Here are some Teams features that benefit 2021 Business Central manufacturing end users and really just anyone using Microsoft Business Central.
Here's a link to a video demo of this new feature: https://youtu.be/VosK4frBAHI
Look up details of customers, vendors and other contacts from Teams
Users of Teams can use the Business Central app for Teams to call up a customer card, vendor card, contact card and other relevant data about the individual they are chatting with or in a meeting with.
Share records in Conversations
It's easy to share information with other Teams members by copying and pasting the URL from Business Central into your chat. A handy "details" button appears, allowing your collaborator to open an information panel without leaving teams.
A new "Share to Teams" action in Business Central
This action on many pages in Business Central allows you to initiate a Teams share without leaving Business Central.
You can watch a video on the new Teams integration features with Business Central.
Better Item Synchronization with Dynamics CRM
Many manufacturing companies using Business Central are also using Microsoft Dynamics 365 Sales (aka CRM). It is very common to have more than one unit of measure for the same item as a manufacturer. Dynamics CRM now allows synchronization of multiple units of measure conversions, a great addition for 2021 Business Central manufacturing that will benefit many organizations.
Supply Chain Improvements to Business Central
There have been a number of supply chain improvements to Business Central in 2021. These usually benefit manufacturers as they have extensive supply chain needs.
Better Rounding for Base Unit of Measure
It's common to see weird rounding errors such as .9999 units of some product when we expect to see 1. This kind of rounding error has existed throughout the Dynamics NAV and Business Central versions from the beginning. The 2021 Business Central manufacturing improvement here is a new feature that will force rounding to the correct quantities, getting rid of weird rounding errors.
New Locations for Non-Inventory Items
Using non-inventory items is common in manufacturing for consumables like wire, oil, fasteners, and lubricants. It was not possible to keep location information about these items since by default they were not supposed to exist in inventory. With these new features, these items can be assigned locations and quantities can be tracked while maintaining a zero dollar inventory value. This new feature will make inventory management easier in 2021 Business Central manufacturing.
Non-Inventory Items Added to Requisition and Planning Worksheets
Another nice enhancement to non-inventory items for manufacturing in Business Central. Non-inventory items can now be added to requisition and planning worksheets, which will allow a unified process for purchasing to replenish inventory. Check out this video demo of adding non-inventory items to planning for more information.
Automatic Creation of Lot and Serial Information Cards
Many manufacturing companies need to keep extra information about the lot and serial numbers, such as the date of manufacture or the source production order number. With the 2021 Business Central manufacturing improvements there is new support for auto-creating Lot No. Information and SN Information cards.
Before this addition, these cards had to be manually created. That made it a bit awkward to add notes and user-defined fields if needed.
With the new changes, users can create these pages to add details directly while creating item tracking lines. Also, users who create lot and serial numbers in bulk can now add details automatically when they post inventory transactions.
Watch this video on automatic creation of lot and serial information cards to learn how this new feature works.
Manage Inventory Adjustments With Inventory Documents
Finding that inventory in the real world doesn't match the inventory in your ERP is a common problem in manufacturing and supply chain. In 2021 Business Central manufacturing feature additions is a new capability to adjust inventory using Inventory Receipt and Inventory Shipment documents.
These new documents can be used by warehouse workers to record increases and decreases in inventory, without needing to do direct adjustments to the inventory ledger entries. This increases control by introducing a reviewable process.
Inventory managers can review the requested adjustments prior to allowing them to be posted. We think this will be rolled out to many of Sabre's customers.
Watch this video on managing inventory adjustments with inventory documents to see how this new feature works.
2021 Business Central Manufacturing Improvements
Item Variants on Forecasts
Item Variants are used for things like the color and size of a shirt, or the different lengths that common materials (like steel) are kept in.
It is common for a manufacturer to want to use variants to control dimensionally variable products that are otherwise the same. An example might be a 1/2″ steel angle used in manufacturing a table, where the most efficient length for a specific table would be 12′ long pieces. You can create an item for 1/2″ steel angle and a Variant Code of 12 feet for that specific length.
In the past, the planning and forecasting in Business Central ignored variants. If you prefer the 12 feet variant, it would not recognize that.
For 2021 Business Central manufacturing, this new feature allows these sub-types of items to be planned more effectively.
See how this new feature works in this demo video on using variants on forecasts.
Improved Time Sheets
Many of Sabre's customers are Engineer to Order manufacturers. 2021 Business Central manufacturing Engineer to Order businesses use Jobs and Assemblies and therefore will benefit from Time Sheet improvements.
Business Central users (like a manufacturing manager) can run a wizard to configure timesheets in significantly less time. The timesheet access from mobile clients has also been improved in the 2021 version of Business Central with a simplified user interface designed. This will work very well in the ETO space as well as businesses that provide field services.
Watch this demo of the new time sheet process.
Production BOM and Routing on SKU
Many manufacturers operate more than one factory, although not as many manufacture the same product at two or more places. For those that do, it can be a struggle because the prior version to 2021 Business Central manufacturing assumed the same process would be used at all locations.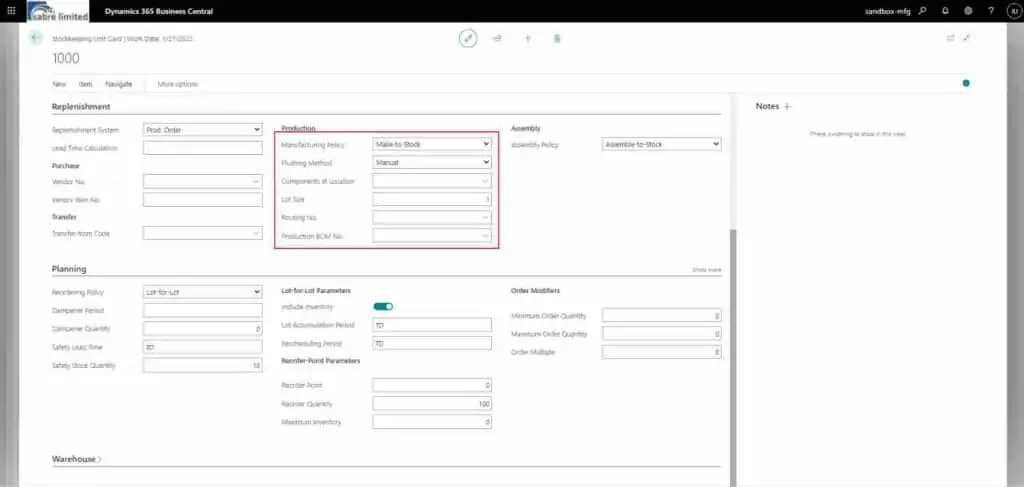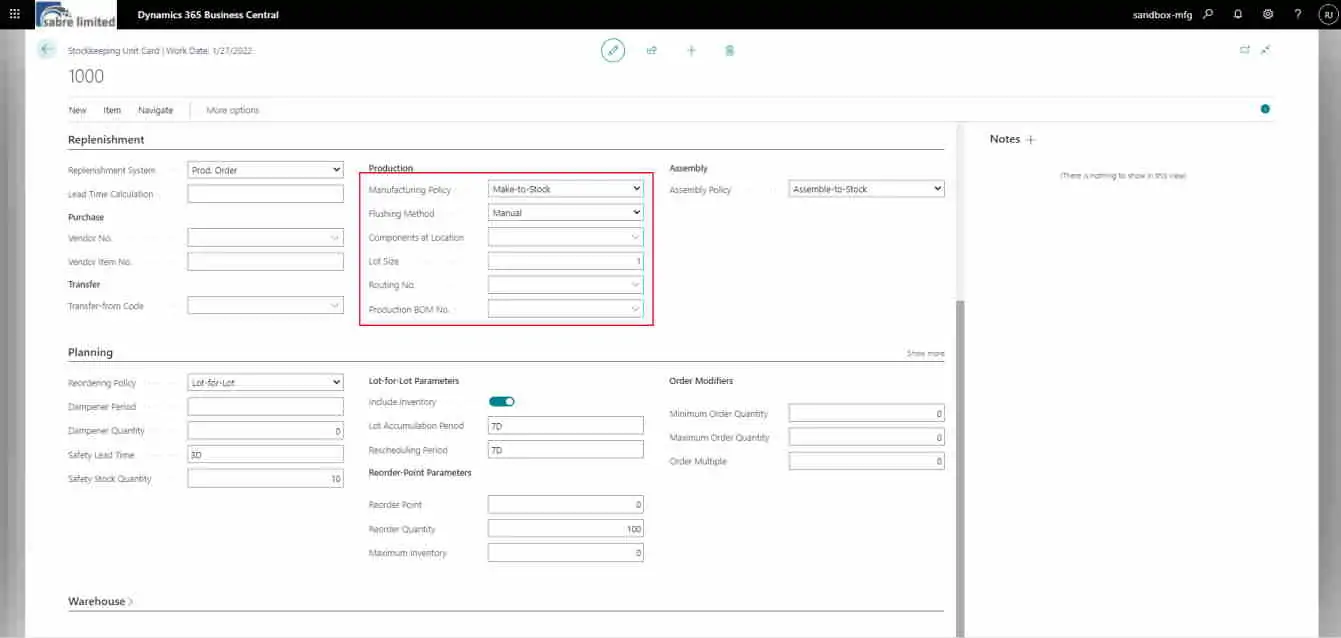 This meant that if the alternate location produced a part using different equipment or items, The planning worksheet generated production orders had to be fixed every time.
Now, users can set standard BOM and Routing per location along with many other planning factors. This is going to allow those multiple facility manufacturing companies to implement with less customization and more out-of-the-box functionality.
This feature is going to allow 2021 Business Central manufacturing to be an option for larger, more complex manufacturing organizations that might not have looked at it in the past.
Addition of Lot Sizing to Manufacturing


Many manufacturing companies are limited in their processes to different lot sizes. Good examples of this are when mixing liquids or powders in a vessel (basically a big mixing bowl) or running a furnace to heat-treat product. The process is limited in how much you can fit in it, and you generally need a Lot Size as part of your production data to accomplish this.
Among the feature enhancements in 2021 Business Central manufacturing is the ability to define the lot size for various stages of production. In the image above we've added a Lot Size of 10 to the 2nd operation of the routing.
This Lot Size will work very well for furnaces, mixing operations, and other volume-dependent operations.
Lot size is also popular in manufacturing environments where output is measured as the quantity you can make during a fixed amount of time. For example, if the Volume per 9-hour shift is 25000 cubic feet, you can set run time as 9 hours and lot size as 25000. The production order quantity becomes less important as on the production order the run time gets calculated as the Run time / Lot size to get the run time per piece.

https://docs.microsoft.com/en-us/dynamics365/business-central/production-handling-lot-sizes
Conclusion
Here at Sabre, we are 100% focused on Business Central for manufacturing. In this article, we try and pick out the highlight items from Microsoft's list of new and planned features for 2021.
We are experts in manufacturing for Business Central and can help any manufacturer interested in using Microsoft Dynamics 365 for manufacturing, or who use Dynamics NAV or Business Central already. Don't hesitate to reach out and contact us for more information about your Business Central manufacturing project.
We are famous for our fixed fee implementation model, exclusively designed for manufacturing.
If you need help with a Microsoft Dynamics 365 manufacturing implementation, either Business Central or Dynamics NAV, give us a call at: (519) 585-7524 x.45 or contact our team, we're excited to talk with you soon!