Business Central Manufacturing (formerly Dynamics NAV) Features and Addon Review
Over the last decade, the manufacturing sector has undergone major changes in North America. There is always increased pressure from the likely sources; global competition from low cost offshore or nearshore competitors; slow manufacturing growth in general; constantly eroding margins – all the while customers are demanding faster delivery and more competitive prices at a higher level of quality and more and more product variation and innovation. The labor market is tightening as skilled supply chain professionals leave the market and nowhere near enough new talent becomes available. The costs and risks of running a manufacturing business are definitely on the rise.
With Microsoft Dynamics 365 Business Central manufacturing (formerly Dynamics NAV) you get a streamlined, integrated, all in one management solution that handles every aspect of your business and manufacturing process. Features of the Business Central Manufacturing system including capacity planning; production scheduling; inventory management; distribution and material resource planning; and financial management – all modules and features previously in the Dynamics NAV system. Business Central Manufacturing is an all in one solution so your company can quickly respond to the changing demands of today. It allows you to focus on giving customers what they want, when they want it.
Business Central Manufacturing basics
The Business Central manufacturing capabilities are exactly the same as were found in Microsoft Dynamics NAV. Manufacturing companies utilize the same core modules as their distribution cousins: sales, inventory and purchasing; warehousing, and stock management. The manufacturing module adds control too for consumption of raw materials, schedule and define different machine and human work, and ultimately output costed and manufactured finished goods.
Like any manufacturing system, the core is a bill of materials and routing. The BOM and Routing are used to create manufacturing or production orders (simulated, planned, firm, and released). Those orders then consume components and have labor reported towards them. The sum of the costs of the materials used (even scrap) and the labor and machine time spent adds up to a work in process. Once you output the finished items to inventory (or to a linked Sales Order through a reservation) the costs move from WIP into Inventory and eventually Cost of Goods Sold.
Backflushing of material can be automated, as well as manually recording use and issue of materials. You can manage and record either predicted scrap or actual scrap produced. You can generate purchase orders and track the state of subcontractors and outside services. These costs also accumulate into WIP as described above.
Introduced in Dynamics NAV 2013, there is also a lightweight Assembly Management module (basically a kitting feature) for those cases where you need to create finished items but the manufacturing management capabilities are just too complex. These simple assembly orders are able to consume raw materials and add labor costs in an easy one-step process, sacrificing some of the detail available in the out of the box manufacturing.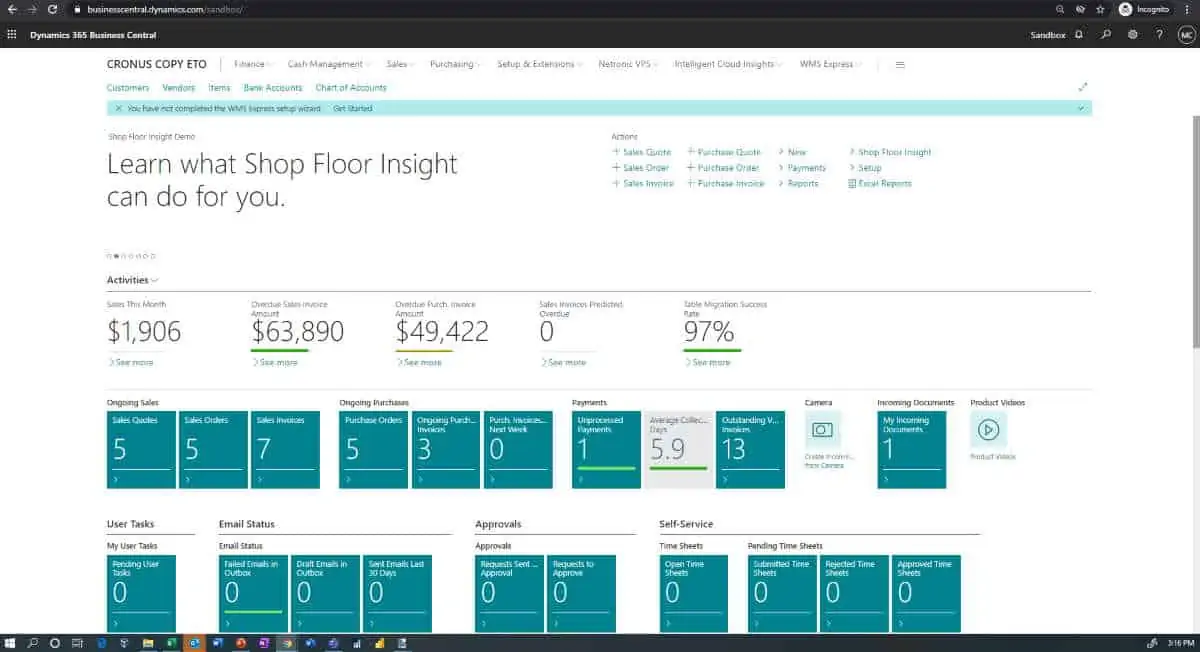 Dynamics 365 Business Central Manufacturing (formerly Dynamics NAV) Suite Features
Production Order Management
Agile Manufacturing
Version Management
Inventory Planning
Demand Forecasting
Machine Centre Management
Capacity Planning
Finite Loading
Production Bill of Materials
Production Scheduling
Supply Planning
Module by Module Breakdown of Business Central Manufacturing
Let's look at a module by module breakdown of manufacturing in Business Central (Dynamics NAV) of some of the above modules.
Production orders
As described above, Production orders are the backbone of the Business Central manufacturing. Production orders are made up of Bills of Material, Routings, 4 status of production orders (Simulated, Planned, Firm Planned, and Released). Production orders can be scheduled (as can each step in their manufacturing). Visualizing the schedule (seeing it in a Gantt chart) can be accomplished with addons like Netronic's (see below).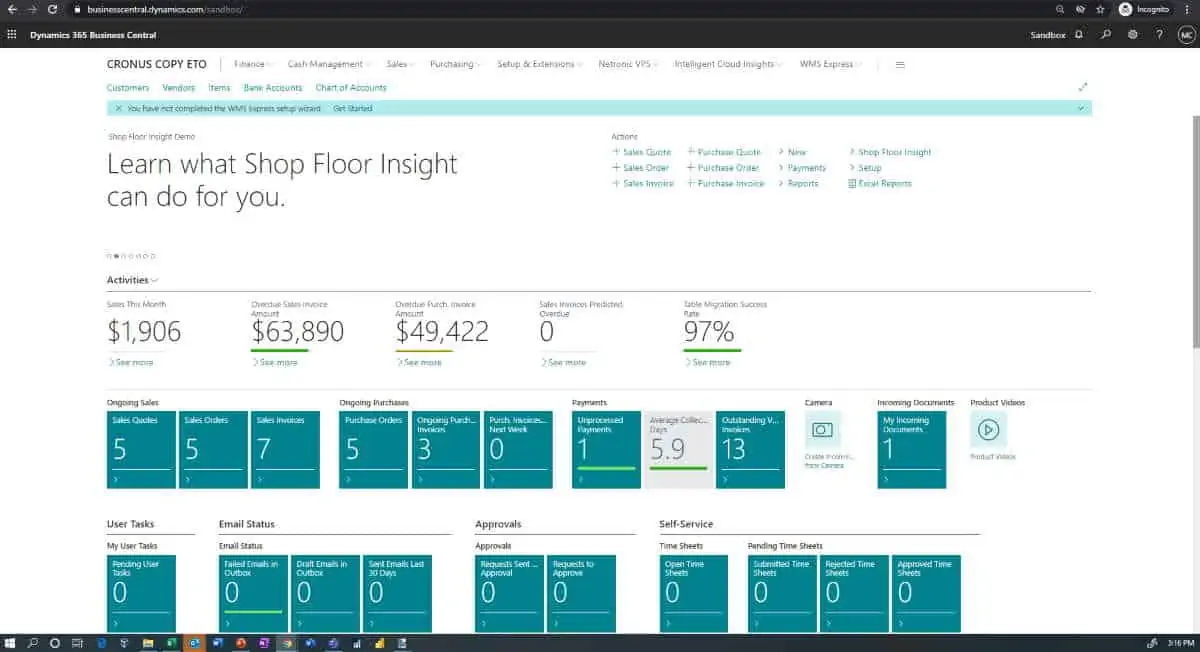 Agile manufacturing
The integrated planning modules in Business Central Manufacturing (formerly Dynamics NAV) are designed with the concepts of Agile Manufacturing in mind. Lean and Agile approaches are easily achieved either out of the box with the base system or with addons by Sabre. Microsoft has integrated Agile concepts into the core of the software so you can put agile manufacturing into action.
Version management
As part of the production management capabilities of Business Central manufacturing, it is possible to manage and maintain versions of your Bills of Material and Routings. Each production order is also able to be customized (materials, machine centers, work centers). You can review historically which exact materials went into each and every production order distinctly, and you can manage versions of your standard manufacturing designs including marking them as obsolete and active.
Inventory planning
Material Resource Planning in Microsoft Dynamics Business Central manufacturing (formerly Dynamics NAV) is a key part of the system. MRP is often considered a cornerstone of any manufacturing software, so much so that MRP is sometimes used synonymously with manufacturing software.
Business Central Manufacturing includes two basic MRP modules – the Planning Worksheet and the Requisition Worksheet. The Planning Worksheet includes full MRP, MPS, and DPS (Distribution Resource Planning) capabilities using a bucketless MRP model.
Requisition Worksheet uses more of a basic MRP model and is based on independent demand only, therefore it does not do a full multi-level regeneration. It is perfectly designed for small manufacturing needs or very simple KanBan replenishment models.
Demand forecasting
Originally part of Dynamics NAV, demand forecasting remains a powerful feature of the system. Used in combination with MRP or MPS, Demand Forecasting in Business Central Manufacturing occurs when your sales or customer service department can generate a forecast of product sales (sometimes because the customer gives you their forecast, sometimes by gathering information from as many sources as possible and generating a best guess). Demand forecasting then generates purchase recommendations based on the forecast as opposed to hard orders received. This is critical for planning and managing long lead time products.
Machine centers
In Business Central manufacturing, the machine center represents a resource or equipment used to produce products. This can be an internal resource that you own, or it can be an external vendor supplied resource. Machine centers have capacity and an operating calendar. They have well defined costs for their operation so that when you define the routing for the item to be produced with a production order, the estimated costs of the machine center can be calculated.
Capacity management
Knowing the machine center capacity and the calendar it operates on allows customers to use Dynamics NAV manufacturing capacity planning. This lets you schedule your production and with that schedule estimate the number of hours of each resource required in each period. You can see whether your stamping department is over or under-booked and you have visibility of this information out into the future.
Add-ins Recommended by Sabre
Sabre has reviewed a number of different addon and add-in solutions over the years of working with Business Central manufacturing. These are a few of major players in the market that we have worked with extensively.
InsightWorks Shop Floor Insights (SFI)
Previously referred to as Time Collection Management (TCM) in Dynamics NAV, this updated version of a classic Dynamics NAV product is our preferred solution for collecting time and production data from the shop floor. InsightWorks is based in Alberta, Canada – and as such offers support during the business operating hours of all our North American customers. They are well known in the industry and offer (at a minimum) bi-weekly demonstrations of the product. InsightWorks was one of the first Dynamics NAV add-on vendors to adapt their products to Business Central manufacturing and AppSource.
Sabre is a reseller of InsightWorks Shop Floor Insights, so you can come to us for the end to end implementation of the software including the training and technical activities.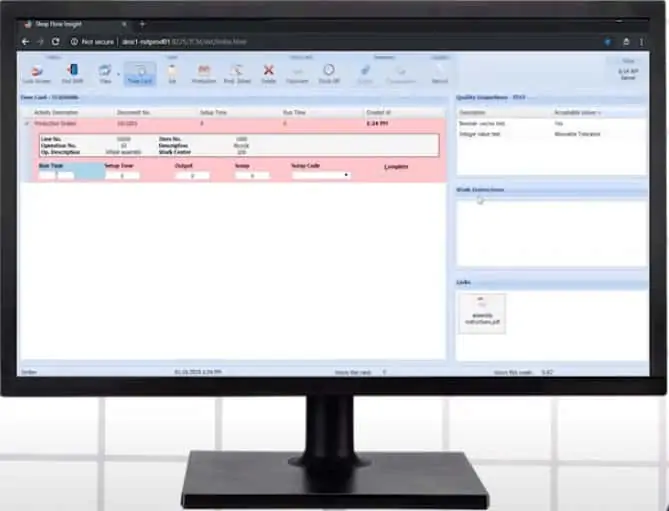 InsightWorks Warehouse Insights
This product is our preferred warehouse management and wireless barcoding solution for inventory control. It runs on all the most common warehouse management hardware products available today (InsightWorks also sells hardware, which we recommend taking advantage of as they 100% warrant their product on hardware they sold). InsightWorks have extensive experience with manufacturing in Business Central, so their products all integrate tightly with the production management modules.
Warehouse Insights is an excellent mid-level warehouse management solution that works for 99% of manufacturing companies. Occasionally we do see manufacturers where their warehouse management is significantly more complex, such as having 200K or more square feet of warehouse and a full and complex distribution requirement, but by and large the WMS solution from InsightWorks is ideal.
Netronic Visual Production Scheduler
Not every customer expects to see a graphical drag and drop scheduler, but for those that do, Netronic is the industry standard for Business Central manufacturing (formerly Dynamics NAV). Located in Germany, and specialization in schedule visualization for many years, Netronic is the best known scheduler product currently designed to work with Business Central.
Netronic offers two levels of scheduling capability. Their Visual Production Scheduler makes use of the standard "out of the box" finite capacity capabilities of Business Central and provides an easy to use graphical view on top of that.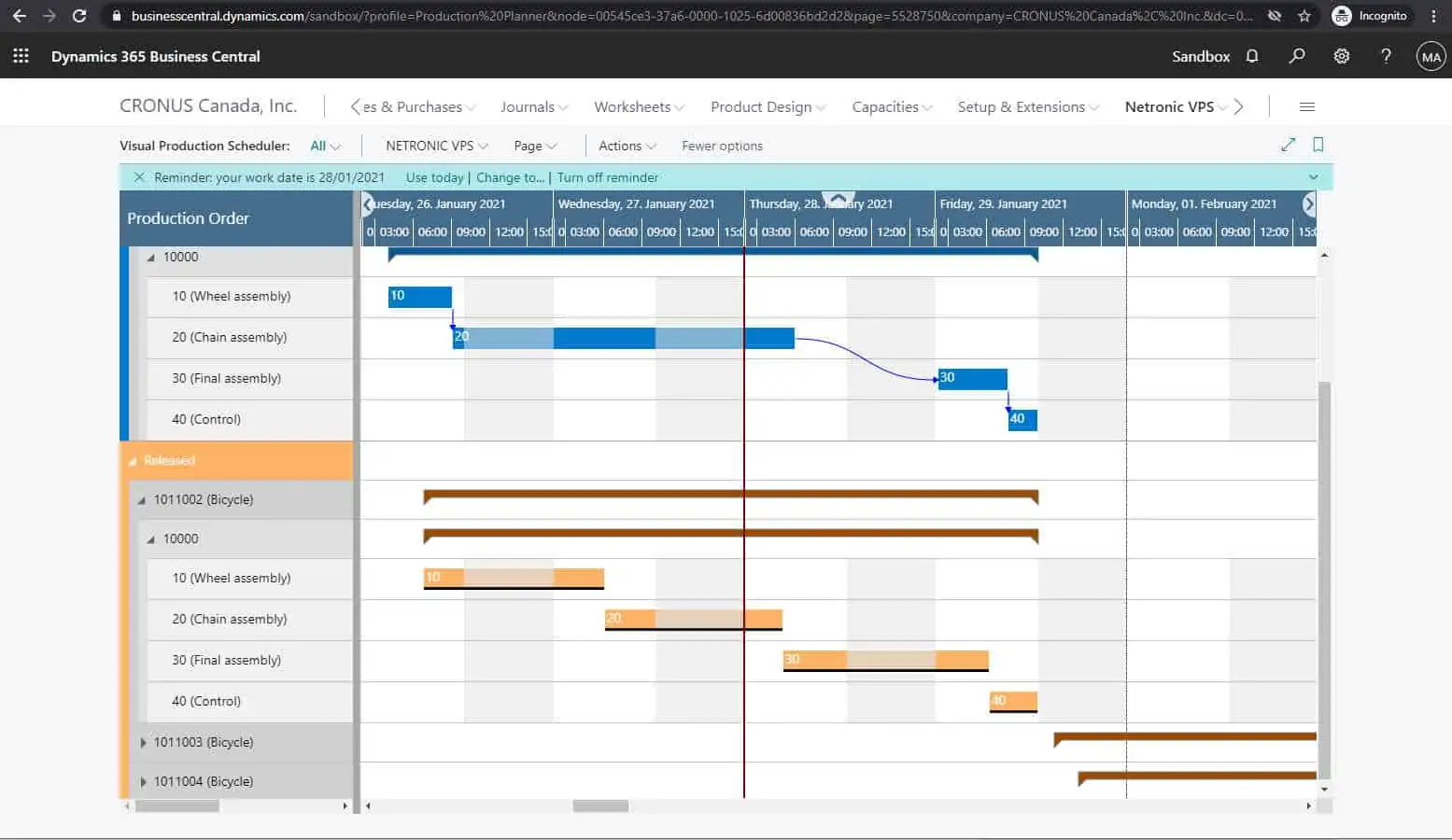 YouTube Video | Dynamics Business Central Manufacturing Overview
Conclusion
Business Central is a full end-to-end solution that is enhanced with add-on and AppSource solutions designed by vendors specializing in manufacturing. Implementation experts like Sabre Limited work in combination with both the out of the box features of manufacturing in Business Central and also add-ons from 3rd parties. Our expertise and knowledge of these products is part of why customers choose Sabre. We work with product vendors to deliver best of breed ERP implementations that are right for your business.
Need some help?
Looking for pricing for Business Central or other Dynamics 365 products? You can find the current Microsoft Dynamics 365 pricing at Microsoft.com. Are you an existing Business Central or Dynamics NAV user? Are you interested in Business Central for your manufacturing business? If you need help with a Microsoft Dynamics manufacturing implementation, either Business Central or Dynamics NAV, where you or your partner are struggling, give us a call at: (519) 585-7524 x.45 or contact our team, we're excited to talk with you soon!