To use a mobile scanner barcode technology for Business Central Warehouse Management, or not? That is the question for us today!
Businesses that stock or manufacture goods typically have to store their stock somewhere and we call that location a storeroom. If the business and the storeroom get big enough, we call the building where everything is stored a warehouse.
Pretty simple so far, right?
Unfortunately, things aren't so simple when it comes to managing the flow of items in and out of your warehouse, and moving items to different locations within that warehouse or between multiple warehouses as is often the case with larger businesses. However, being absolutely precise is critical for inventory management, even for small and mid-sized businesses (SMBs).
Warehouse management means different things for different people. For me, it means any system that helps control the quantities, locations, and disposition of materials in business warehouse stores.
Sometimes this goal is achieved through Dynamics 365 Business Central warehouse management modules using very simple incoming and outgoing transactions. This approach manages the overall quantity by item and records any purchase order being booked in or transferred to other locations in the warehouse, and sales order being shipped to customers.
Sometimes it is done by barcode labelling all products, locations, and activities within the business and using mobile devices, handheld terminals (HHT) or barcode scanners to track every movement. With this approach staff will now need to scan every time they move, pick or put stock away. Additionally, incoming shipments from any purchase order are booked in inventory by being scanned.
Be sure to check out our other blog post on 5 Best Practices for Inventory Control in Dynamics 365 Business Central warehouse management which we recently updated for 2022.
If you enjoy this article and would like to talk to Sabre Limited's president Robert Jolliffe to chat about these concepts, you can book a one-on-one 30-minute call with him at https://calendly.com/robert-jolliffe
Dynamics 365 Business Central Warehouse Management is Full Featured
Within the Dynamics 365 Business Central warehouse management modules are many features and functions. Microsoft Dynamics documents the setup of warehouse management as well as the features of the system online. In summary, out of the box, Business Central warehouse management includes:
Warehouse Shipments.
Warehouse Receipts (used with inbound ASN usually).
Warehouse Picks.
Warehouse Put-Aways.
Warehouse Bins, Class and Zone Codes.
Various worksheets for warehouse and bin management.
Ecommerce integration.
Electronic Data Interchange (EDI).
Serial Number and Batch Tracking.
Stock-Unit Management.
Whether a manufacturing company is aiming to use Business Central Warehouse management modules to control their warehouse without barcode scanners OR they plan to implement RFID technology with advanced mobile Warehouse Management Software (WMS) devices – there are reasons for wanting to use a barcode warehouse management system to improve operational efficiency.
In this blog post, we will share our thoughts on what those reasons are, and which warehouse control technique best applies to each reason. After you read through our recommendations, you will know whether you need a Barcode Warehouse Management System or not for your manufacturing SMB.
4 Reasons Why Manufacturing Companies Might Need a Barcode Warehouse Management System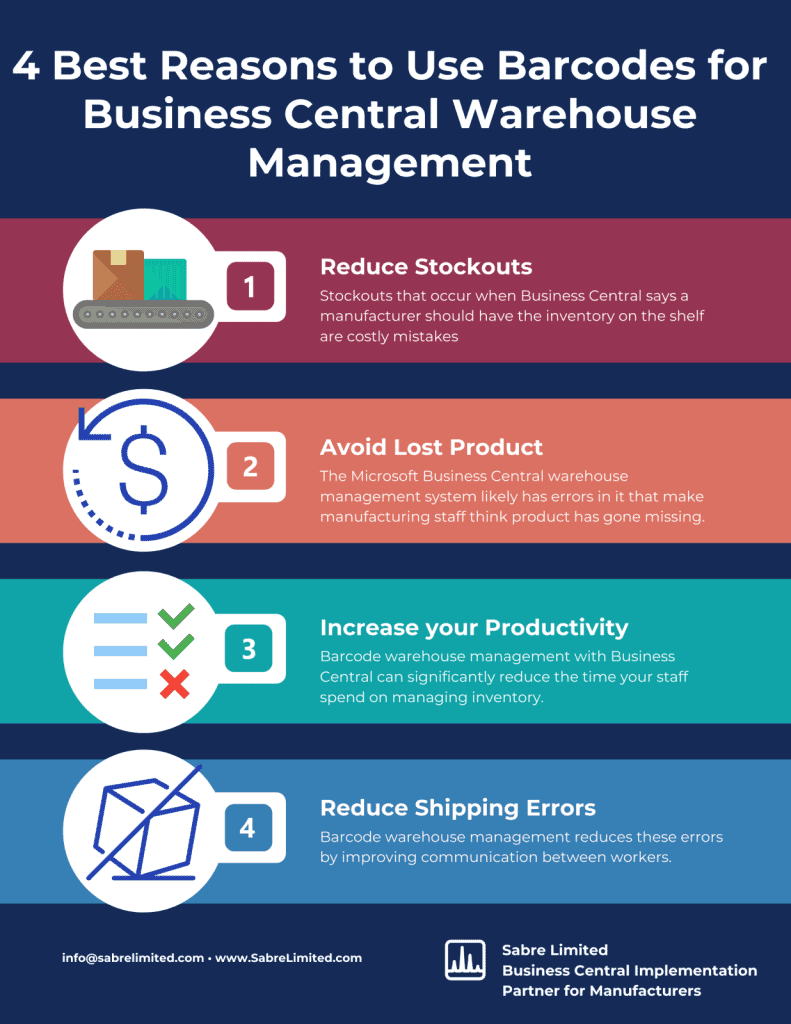 #1 Reduce Stockouts: An Automated Nightmare?
Stockouts are the bane of manufacturing and distribution companies' existence. Stockouts that occur when Business Central says a manufacturer should have the inventory on the shelf are infuriating. Before running off to buy a WMS to solve your stockout problem, however, be sure to identify the root cause.
Most likely manufacturing staff are not recording inventory changes accurately in Dynamics 365 Business Central.
As we often say at Sabre, automating mistakes just lets people make more of them faster. If manufacturing staff cannot record inventory changes accurately through simple incoming and outgoing transactions, then an automated mobile device-based WMS and putting a barcode scanner in their hand will not solve the root problem.
Dig into the reasons – they are rarely because of a lack of adding barcodes to Business Central warehouse management. So, if you are looking at investing in an WMS to solve recurring stockouts, the best bet is to first do an audit to see if human error might not be at the bottom of the issue. Often you will find that manufacturing staff are not recording inventory changes accurately.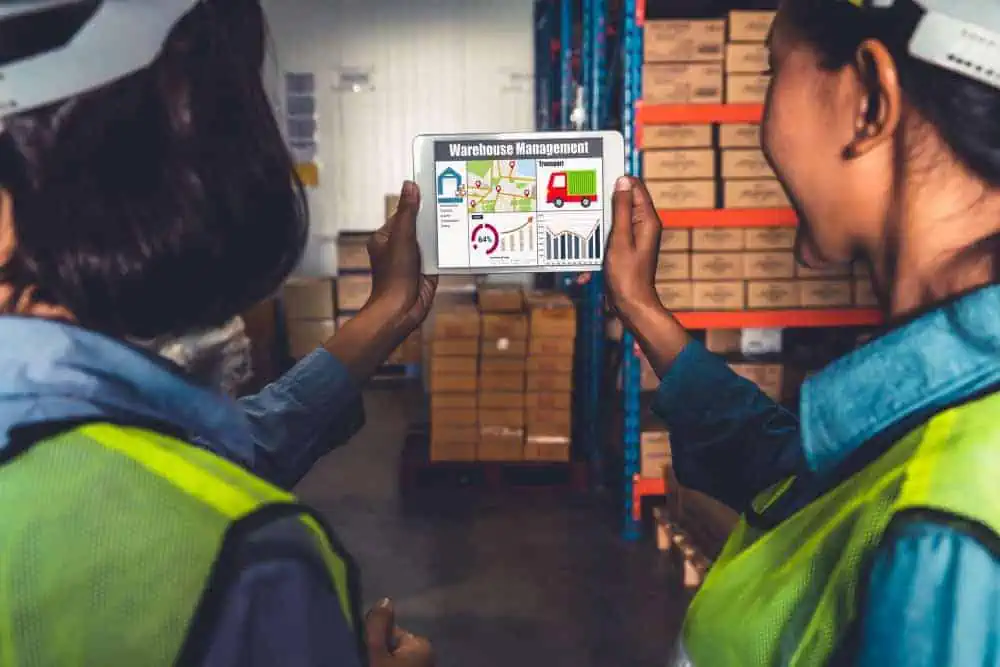 #2 Avoid Lost Product: The Same Reason You Are Having Stockouts?
Products can be lost for a few reasons. If product is going "missing" from a small manufacturing company, it might be for the same reason they are having stockouts.
The Microsoft Dynamics Business Central warehouse management database likely has errors in it that make manufacturing staff think product has gone missing. Be sure the right inventory transactions are recorded at the right times. Again, using a warehouse barcode system might just accelerate the errors.  
If you have a very large facility, or goods can be stored in many locations, then a barcode control system makes sense. This is especially true if the decision as to where to put stock depends on which bin or shelf has space.
Be aware that your staff will now need to scan every time they move, pick or put stock away. This increases the number and complexity of the transactions in Business Central warehouse management.
Barcode systems make inventory management easier and provide much more detailed information about stock movements, they can be used to track inventory in real time, and they can be integrated with other business processes such as put away, order picking and shipping. The main disadvantage of barcode-based systems is that they require more training for staff, and they are more expensive to set up and maintain.
#3 Increase your Productivity and Reduce Managing Time
Are manufacturing staff constantly traveling back and forth between a computer running Dynamics 365 and the warehouse? Are they entering thousands of inventory transactions or purchase order and sales order per day? Are there complicated or tedious serial number transactions that need to be done by hand? Then a Business Central warehouse solution with barcode scanning technology makes a lot of sense. Barcode solutions for warehouses with Business Central can significantly reduce the time your staff spend on inventory management.
Increasing manufacturing staff productivity with an empowered workforce is a major reason to implement mobile barcode scanning technology in Dynamics Business Central. By empowering employees with real-time data and the ability to access information from anywhere, mobile barcode scanning warehouse solutions help warehouse workers to achieve increased efficiency and be more effective on a daily basis.

#4 Reduce Shipping Errors/Shipping Wrong Product
Some manufacturers have very similar-looking products and can easily make an error when shipping. I have seen this with several different businesses (mattress manufacturing, motor, and pulleys, small business, or large, etc.) and it can quickly become an incredibly costly mistake. Barcode management technology can help to reduce errors and improve communication between warehouse workers when they use a barcode scanner.
Within the Dynamics 365 system, there is no way to force a user to pick the right product. Adding a simple barcode system that checks to make sure the shipper is selecting items designated for that particular order can fix this problem.
By scanning the barcodes of both the products and the shipping order, the shipper can quickly confirm that they are selecting the correct items. This simple step can save businesses a lot of time and money in the long run.
These different types of errors don't always require a full end-to-end warehouse control program to solve. In LEAN manufacturing speak, they need a simple Poke-Yoke solution only. Poke-Yoke is a Japanese term that means "mistake-proofing." These devices are designed to prevent errors from happening in the first place – when it comes to managing a warehouse an example of a Poke-Yoke solution is barcoding tracking technology.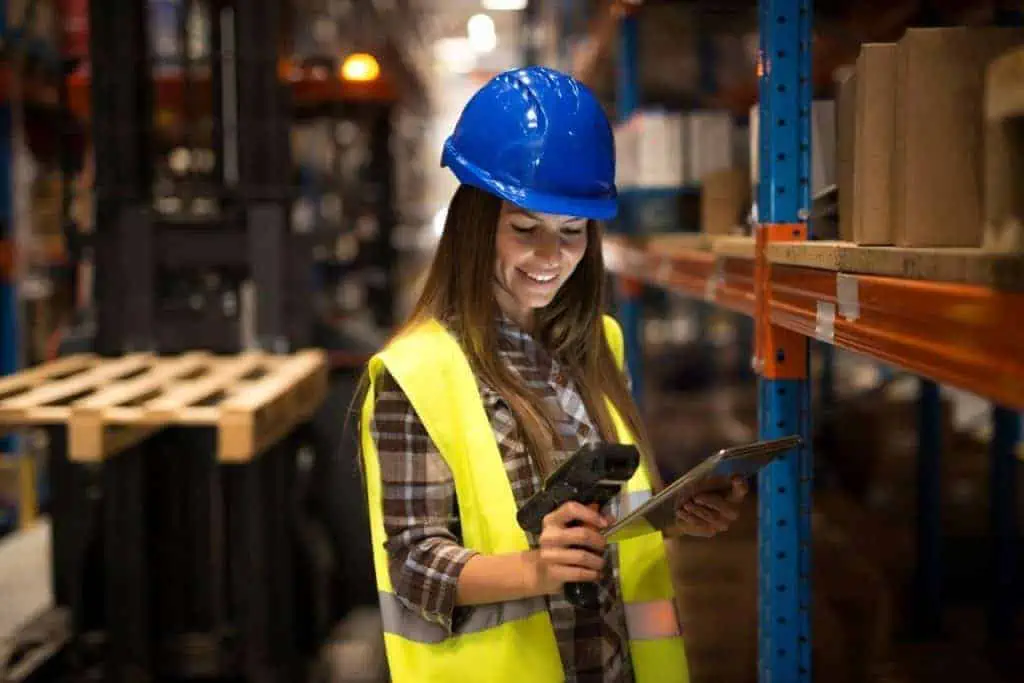 Conclusion
Barcode tracking technology has never been of as much importance as it is now. The 21st century calls for up-to-date warehouse inventory tracking system that can manage a business's critical warehouse data.
By using Business Central inventory modules, you can control your warehouse through the software with or without having to use barcode scanners.
The main advantages of using the Business Central warehouse management for simple transactions is that it is very easy to set up and use. It requires little or no training for staff, and it is very reliable. The main disadvantage is that it does not provide the level of control that barcode-based systems do. It is critical for companies to know when each is best. The Wi-Fi type barcode scanning solutions tend to be needed when Lot or Serial tracking is involved. Those companies in pure distribution will obviously need them also.
Make the Right ERP Choice for your Business
We hope that this analysis helps you decide if barcode scanning technology is the right choice for your small business if you are running Dynamics Business Central.
If you have a lot of products that look VERY similar, then barcode management is critical also. Our expertise is knowing when and how these things should be done. Let us help you with your implementation!
Need Some Help?
If you are still unsure whether you need a Barcode technology solution in Business Central, give us a call at: (519) 585-7524 x.45 or contact our team, we're excited to talk with you soon!