Microsoft, VPress, Kodak and PrintVis have partnered to bring an end-to-end MIS, Prepress and Web2Print solution
Last week Kodak announced that it was collaborating with Microsoft to provide advanced business solutions to the print and graphic industry. The announcement on Kodak's website stated that they are adding Dynamics Business Central and PrintVis to their cloud solution for printers. This news made the rounds to Sabre as we are also a PrintVis implementation partner, and this clearly has a big impact on us and the industry.
Let's talk a little about PrintVis and Microsoft.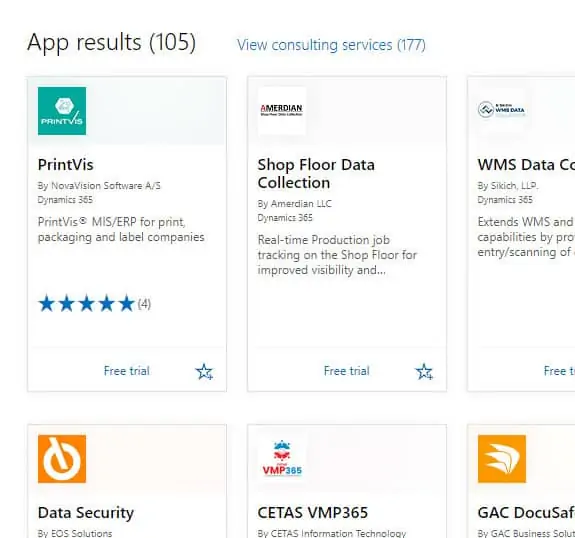 Business Central is Microsoft's mid-market flagship ERP solution. Microsoft has a total of 4 different ERP systems that they sell. Dynamics GP is an ERP system from the early '90s that was previously called Great Plains. Dynamics SL is an ERP system that Microsoft acquired around 2000 along with GP. Dynamics NAV has been rebranded and updated and is now Business Central. And finally, Dynamics AX was rebranded a few years before Business Central and is now called Finance and Operations.
How do Dynamics Business Central and PrintVis fit in?
Now Kodak and PrintVis (along with Microsoft and VPress Web2Print) are making some waves. Why this choice?
Microsoft Dynamics Business Central is built to be extended. That means Microsoft designed and is encouraging customers and vendors to add on to the main product. They did this to allow for industry vertical (specialized) addons that integrate entirely into Business Central.
Microsoft are software experts, and they are good at the day to day of generic businesses. What they are not strong at is the print or graphics industry. Impositions, ink, paper, substrate: these are not terms that Microsoft is familiar with. That is where Dynamics Business Central and PrintVis comes in.
PrintVis is a Print Manufacturing MIS system that is designed to integrate into Business Central. It adds features to Business Central like estimating; production management; Web2Print integration; job costing; shop floor management; JDF support and many more common MIS features.
PrintVis staff are made up of former employees of Heidelberg; or who worked for some of the usual suspects in the MIS market; or who have done hundreds of commercial print, label, packaging implementations; or who have implemented Web2Print at dozens of customers. They know the print and graphic industry, period. Microsoft doesn't need to develop this capability.
Microsoft is amazing at designing and creating cloud software. They have the technical know-how and the resources to build an ERP that runs on desktop, laptop, tablet or phone. They are multi-vendor friendly: Dynamics runs equally well on a Chromebook, MacBook or DELL PC. They have great business products like Microsoft Office 365 and of course, they ensure that Business Central integrates tightly with Office.
PrintVis adds the print industry specific capabilities. Microsoft provides the foundation for accounting, accounts receivable, accounts payable, inventory, fulfillment, purchasing etc., and a world class software platform.
Microsoft Dynamics Business Central and PrintVis added together create a real powerhouse MIS solution. It makes sense that Kodak and PrintVis also create a powerhouse.
In my humble opinion, the overall solution is among the best in the industry. Anyone who I could get to listen to me heard that story. There just weren't a lot of people listening.
Kodak and PrintVis are a logical combination given the options for MIS solutions in the market.
I have not been involved in the MIS segment of the print industry for very long. I have found one thing that quite peculiar compared to my other ERP experience. There are a very small number of mid-tier MIS solutions in North America. In the more general manufacturing ERP market there are hundreds of mid-tier ERP solutions. I only know of 2 mid-tier MIS solutions that are North American in origin: EFI and Avanti.
There are a lot of small players with a small footprint, but none that are backed by a really large software vendor.
If Kodak wanted to get into the MIS space and didn't want to write their own from scratch they are limited in choices. This combination – Kodak and PrintVis with the leading vendor in the industry (Microsoft) is a very logical choice.
How will Microsoft Dynamics Business Central and PrintVis change with the introduction of Kodak?
It is really hard to say how Kodak and PrintVis entering into the arena will change the market. One thing is for certain. Dynamics Business Central and PrintVis are going to get a significant boost in press from this announcement. Commercial printers especially are going to become aware of PrintVis over the next few months. I think this is good for Sabre and for PrintVis. A rising tide raises all boats – and frankly Kodak won't always be the best choice to purchase PrintVis from.
PrintVis can be purchased from several companies in North America. Of these companies, the most experienced with is Sabre Limited. Kodak and PrintVis is an exciting situation, but it takes a lot to learn to implement an ERP system. Dynamics Business Central and PrintVis are not easy to train and setup at the best of times. Even for a large corporation like Kodak, training and implementing the software will be new and challenging.
Sabre has figured out how to implement PrintVis successfully, and we have the war wounds to prove it. We know the best and worst parts of the product. Every tool has
Conclusion
Dynamics Business Central and PrintVis has really hit the big time now that Kodak and PrintVis are working together. The publicity and dramatically increased information that is going to be shared with the public will benefit all the PrintVis resellers in North America.
As the most experienced reseller in the US and Canada, Sabre is poised to take advantage of this sudden attention.
If you are looking for a world class graphic and print industry MIS solution, the Microsoft Business Central and PrintVis system has now been vetted and approved by one of the biggest players in the industry. The software does what you need it to do in your print manufacturing business.
Implementation experts like Sabre Limited are here to help businesses implement and activate the PrintVis MIS. We have been selling Microsoft Dynamics since 2008, and are well regarded by our peers as leaders in manufacturing implementation. Our knowledge and expertise is why customers choose Sabre.
Need some help?
Looking for pricing for Dynamics Business Central and PrintVis? Check out our PrintVis price guides on our PrintVis and Dynamics training information page. If you an existing Business Central or Dynamics NAV user interested in PrintVis, we can help you determine how you can add this MIS into your system. If you would like any questions answered give us a call at: (519) 585-7524 x.45 or contact our team, we're excited to talk with you soon!