The PrintVis MIS solution for the commercial printing industry is an end to end powerhouse solution
This is an article that gives some background and explains a bit about PrintVis for commercial print, and how PrintVis MIS (an addon found in the Microsoft AppSource) is specifically designed for the print and graphics manufacturing industry as a standard.
In particular, I want to chat about how PrintVis works in commercial print environments and how it interacts with Business Central. One of the unique features is that is not specific to commercial print, something that really sets it aside from the competition. Most print industry MIS solutions have a niche they specialize in. This addon is much, much more flexible and as such works great in hybrid environments.
How does PrintVis for commercial print fit in?
Printing companies usually define themselves by a combination of the equipment and processes they run and also what products they produce. When I speak to a printer for the first time, I tend to ask what presses they have. Based on what presses they have and what finishing equipment, I can pretty quickly categorize them. Knowing if they are primarily sheet-fed, web, digital, flexo, litho, screen, etc. really gives an idea of what their end products could be.
Back in the day, there were fewer companies that offered multiple types of products. Digital technology and market pressure have started to change this. More and more often I'm finding companies that actually handle more than one Print mode of manufacturing. This is pretty important when it comes to PrintVis for commercial print. PrintVis MIS is sufficiently flexible and capable that commercial printers who are branching into packaging, labels, wide format, and other print modes of manufacturing are able to use the single product for their entire business.
What is a Commercial Printer?
Back to the Commercial Printer. If you are a commercial printer, you don't need me to explain what that means. If you are not familiar with the concept of a commercial printer – then you can tell them apart because they make all the typical marketing and day-to-day use print products a business might want to buy. Brochures, booklets, books, business cards, posters, pop-up displays, banners, etc… These are all products you would normally see from commercial printers. Often they add marketing materials like coffee mugs, pens, bags, etc. as well. PrintVis for commercial print refers to the features and functions that you need for your business.
PrintVis for commercial print is software built on Microsoft Dynamics Business Central.
One of the reasons the PrintVis for commercial print is more well rounded and feature rich than the competitors is because of Microsoft.
If you are not familiar with Microsoft Dynamics Business Central, I don't blame you. Many businesses in the Print and Graphics industries are more likely to be familiar with the sister product Dynamics Great Plans or GP. If you know a little bit about this, try and forget it.
The way that the PrintVis Print MIS integrates into Business Central is radically different than what you are used to. Instead of Business Central and the addon being two different products that exchange data; PrintVis MIS is built right into Business Central. PrintVis for commercial print features just became part of the out of the box Business Central menu and action bars. PrintVis fields and data become available. The standard out of the box Customer Card or Item Card remain and are used, it is just that these new MIS features are available and added.
7 Cost-Saving PrintVis Print MIS features used by Commercial Printers
After installing PrintVis MIS (which anyone can do from AppSource – although we recommend hiring a partner like Sabre Limited to help implement and train you) it automatically adds features that commercial printers need.
A flexible estimating module for creating quick and accurate estimates
An order management system designed to manage small orders in high volume
The integrated Business Central inventory management, augmented with order level purchasing and scrap management
Linking the out of the box purchasing in Business Central with post-press finishing sub-contractors
Adding sophisticated and accurate job costing
Dashboards and reporting designed to facilitate and improve communication between the front office and production
Both standard planning and electronic job tickets plus optional graphical scheduling to view and manage production
As you can see from this list, PrintVis Print MIS adds print and graphic industry vertical capabilities to Microsoft Dynamics 365 Business Central. If you looked at Business Central as a stand-alone product, you will find very little for the print manufacturer. Adding PrintVis creates features for all the pain points in the graphics manufacturing industry.
PrintVis is cost-effective, it is extremely flexible, and is out of the box a complete solution. There are a few additional modules – but the base PrintVIS MIS includes 98% of the features.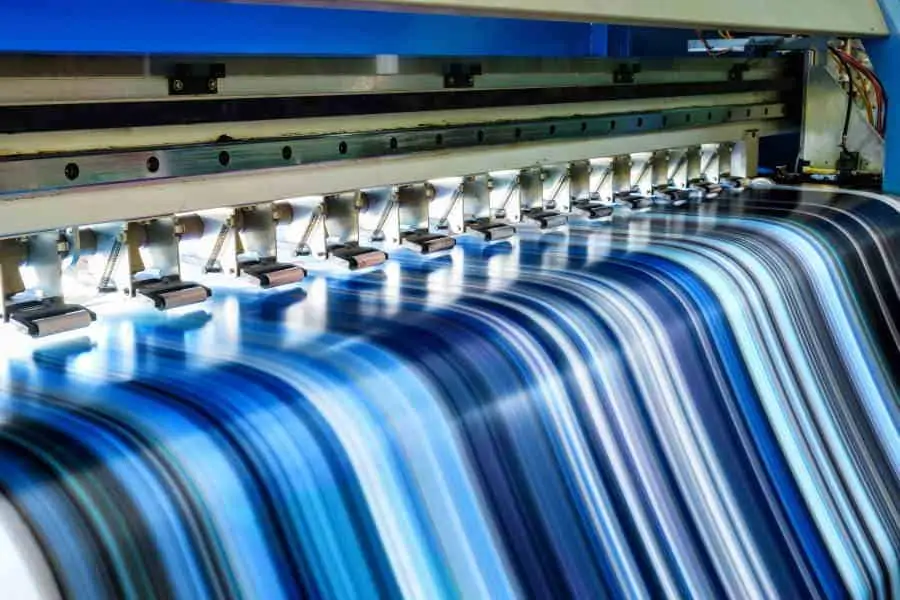 3 Ways PrintVis MIS is Cost-effective
This product has a few advantages over competitors like EFI Pace, Monarch, Print Smith; Avionte; PrintIQ, and others.
1. Microsoft Business Central R&D Budget
The integration with Business Central means that it gains the benefits of R&D by Microsoft into its entire product stack. By reducing their own development costs, and by adding PrintVis for commercial print features into Microsoft's existing feature-rich product, you gain the best of both worlds. As Microsoft expands the product capability in most places – PrintVis MIS just naturally gains those features.
2. Microsoft Business Central Reduced Customization Fees
PrintVis MIS has a much lower cost than any competitor for customizations. Nobody wants to do customizations for their MIS or ERP system. Unfortunately, we all know that despite best intentions it can be impossible to avoid them entirely. It is integrated into Business Central, which is essentially an open-source commercial ERP. What that means is that almost anyone can do development and customization in Business Central, and by extension, you can add or enhance your own PrintVis for commercial print features. The result is competitive pressure keeps customization costs down.
3. Sabre Limited's Implementation and Training | Low Risk Implementations
As I've written about in the past, the Sabre fixed fee implementation and training approach is much lower risk and well defined than our competitors. We offer training packages for PrintVis for commercial print as well as other types of print manufacturing.
These are fixed fees that guarantee certain outcomes from training, regardless of how much time our team spends training you. You do not pay by the hour. You pay for what training you want more or less like a college course!
Microsoft Business Central and PrintVIS MIS Subscriptions are Affordable
The PrintVis for commercial print addon starts at $50 per user per month – which is on top of the Microsoft Business Central $70 per user per month. Users can also use the Microsoft Business Central Team Member user ($8 per month) and a PrintVis Team Member which is $10 per user per month.
In combination therefore users run from $120 per month for a superuser who can do absolutely everything from end to end, down to $18 per user per month who would be a user that looks up information and records their time and production.
All subscriptions are month to month (paid monthly when paid by Credit Card, quarterly when paid by invoice). There are no terms. There are no commitments.
Conclusion
The PrintVis MIS addon adds a great collection of features and functions to the Microsoft Business Central system. These PrintVis for commercial print features blend in and are integrated fully into the Dynamics 365 end-to-end solution.
Implementation experts like Sabre Limited work in combination with both the out of the box features of PrintVis MIS and Business Central. Also, specialize in addons from 3rd parties for things like warehouse management or credit card processing. Our expertise and knowledge of these products are part of why customers choose Sabre. We work with product vendors to deliver best of breed ERP implementations that are right for your business.
Need some help?
Looking for information about PrintVis or Business Central? Check out our PrintVis and Business Central information page. If you an existing Business Central or Dynamics NAV user and are interested, we can help you determine how you can add PrintVis into your system. If you would like any questions answered give us a call at: (519) 585-7524 x.45 or contact our team, we're excited to talk with you soon!