I've been meaning to write this article for my fellow Business Central consultants for a while now. Here at Sabre, we have become known as the experts in ETO manufacturing in Business Central. As such we get a lot of questions about our Sabre ETO addon and general questions about Engineer-to-Order manufacturing.
ETO is short for Engineer-To-Order, which is a type of manufacturing focused on the creation of custom-engineered solutions rather than repetitive "cookie-cutter" products. Of the different modes of manufacturing, it is very different from most others. Engineer-to-Order is much more like project manufacturing than it is repetitive or production manufacturing.
How is ETO Manufacturing in Business Central Different
There are three major ways that ETO manufacturing in Business Central differs from more traditional production manufacturing.
Most ETO Manufacturing does not have a detailed routing with estimated times for activities.
Most Engineer-to-Order projects don't finish their Bill of Material (BOM) design until after the manufacturing process is at least partially started.
It is very common for ETO manufacturers to not actually "manufacture" parts and components but do almost exclusively assembly and testing activities.
For the typical Business Central consultant who's trying to implement manufacturing the way they've been taught, they'll have a lot of difficulties.
They can't get a list of Production BOM and Routings because the customer doesn't have any kind of standard BOM or Routing for most anything.
For ETO manufacturing in Business Central, the customer will want to be able to "buy to job" many parts, and might even want to avoid using Item Numbers.
For sure the customer will not like the idea of the Requisition Worksheet or Planning Worksheet when shown.
Most Engineer-to-Order manufacturers will also tell the consultant they have a field service component to the business. While this is true, the ETO definition of Field Service differs quite a bit from what the typical Business Central manufacturing consultant would understand.
The existing Job Costing and analysis tools in Business Central manufacturing modules are not at all designed the way an ETO thinks of Job Costing.
Engineer-to-Order projects can take months or even years to complete. Standard manufacturing WIP processes are woefully inadequate for them. For ETO manufacturing in Business Central, WIP handling requires a lot more complexity.
Tips for ETO Manufacturing in Business Central
Business Central has all the core modules and functions to handle Engineer-to-Order manufacturing, but in some cases, it is a bit awkward to use. Let's take a look at the modules that should be used as compared to a typical production manufacturing implementation.
Use Jobs for ETO manufacturing in Business Central
The Jobs module in Business Central is well designed to track and manage generic projects in a business. Whether you're building a bridge, implementing an ERP, or building a robotic assembly cell, Jobs are pretty good for collecting and reporting costs and tracking progress.
We have found that the vast majority of ETO customers immediately recognize Jobs as the right starting place for their project manufacturing. There are a few drawbacks to the Jobs modules, which we solve with the Sabre ETO addon.
Using Jobs, what you want to do is lay out the Tasks into a structure for costing that matches how the ETO currently handles their job costs. Usually, the Jobs Tasks page (sub-page part) by itself shows the detailed breakdown of costs they want to see.
NOTE:
There is one exception which is the sales estimate vs the budget. In the Engineer-to-Order world, a sales estimate is usually called a budget. This is almost always arrived at outside the ERP and is pretty "broad" and not super detailed. In ETO manufacturing in Business Central, the sales estimate has no real place to go. In the Sabre ETO addon, we add a set of fields for tracking it, but you can just as easily customize standard Jobs to hold this data.

Some customers really struggle with the fact Microsoft calls the current estimated or projected cost the Budget. They want to call that a Forecast – so be very clear that it is not the sales budget.
Scheduling in ETO Manufacturing
There are three terms that are used interchangeably by many manufacturers: Scheduling, Planning, and Sequencing. The last is a bit less frequent than the first two. Usually, scheduling and planning are the two that are most frequently used, and typically wrongly. Here is my definition of the three:
Sequencing is usually managed to the hour or day, and represents the specific order that production tasks should be done by a specific resource. This is very detailed. This is normally used where the order things are done in is important (running product through a paint shop, or running an extruder etc.)
Scheduling is managed by the day or week, and represents the approximate (but not exact) tasks to be done by specific resources in a period. It's meant to allow for the operators and lead hands on a shop to adjust based on what they know works best. This is very common in production.
Scheduling or Sequencing requires accurate estimates of the time each task will take to do, which ETO's don't typically have.
Planning is usually managed by the week or even month, and it represents the broad amount of work to be done by resource groups rather than individual resources. Planning is often called Capacity Planning. Material Planning can also fall into this description.
ETO manufacturing in Business Central is almost always going to use the planning level rather than the other two. To really do scheduling or sequencing, you MUST have very accurate routings (time estimates) of how long each task will take. Engineer-to-Order manufacturing (by its very nature) does not have accurate time estimates for each task. They (ETOs) make high-level aggregated estimates – eg: All the welding will take 50 hours. Scheduling requires much more accurate estimates – eg: widget 1 welding will be 1.25 hours, widget 2 welding will be .75 hours, etc.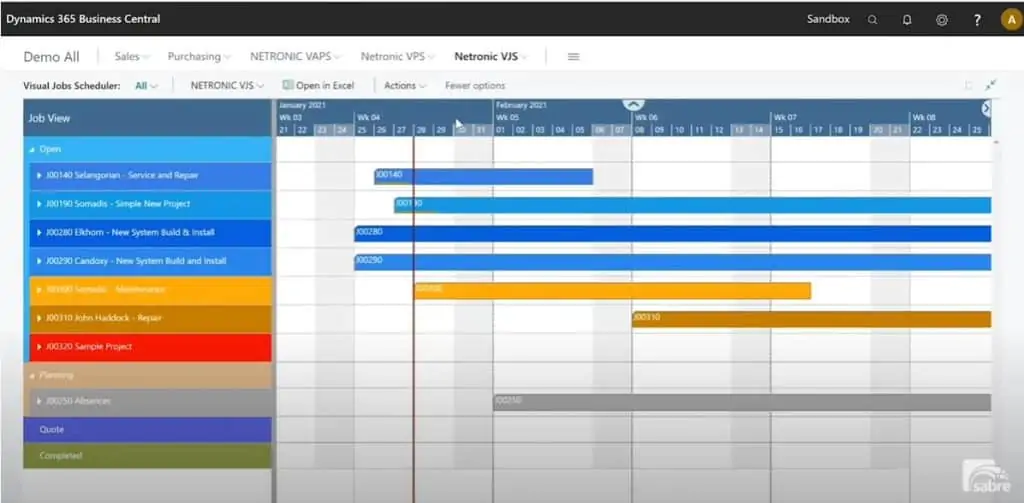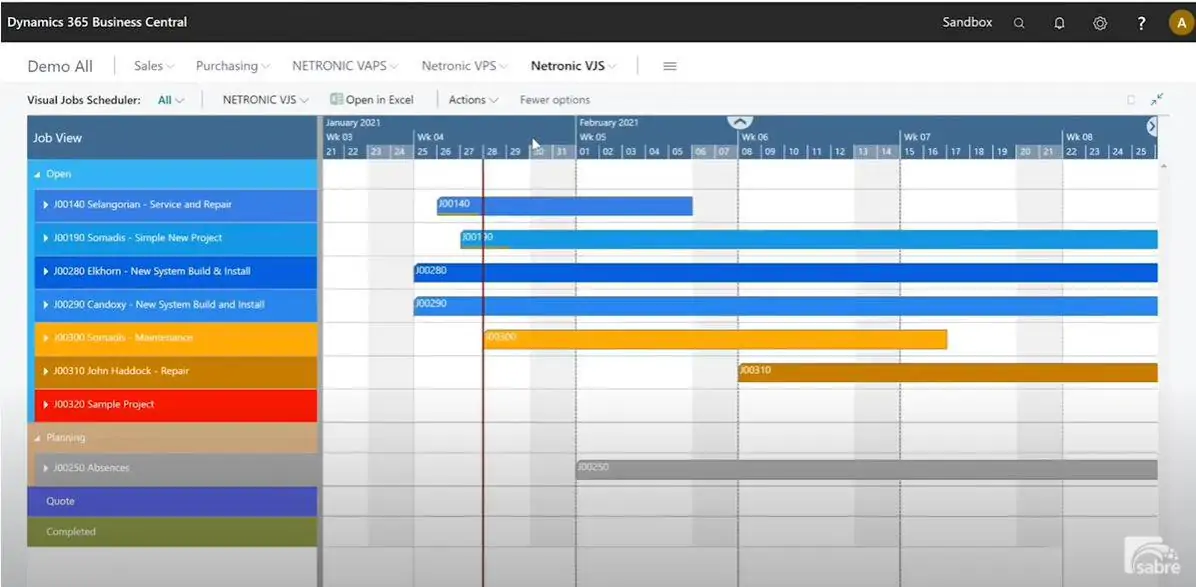 A simple Jobs scheduler like the Netronic Visual Jobs Scheduler is a good choice for this high level planning. The customer would use Job Planning Lines to create aggregate estimates of the time required, and Netronic can be used to do a rough cut, and later to assign the work to teams and individuals.
Change Orders in Business Central ETO
Most ETO manufacturing in Business Central will involve some number of change orders.
The change order process is usually going to reside somewhat outside the system, and then be integrated into the billing and eventually the Bill of Materials (ie: Planning Lines) of the Job.
Unlike traditional production manufacturing, tracking "Engineering Changes" is itself not needed in Business Central. The entire project is made up of constant engineering changes as the engineers work on the design, refine it and (often) involve the customer for feedback.
It would probably be best practice to use something like Dynamics 365 Sales Professional (with minor customizations) to track the Change Orders as Opportunities in the system. These opportunities need to be quoted, approved by the customer and then integrated into the design. A Business Process Flow in Sales Professional can easily handle the steps in the process.
Tracking that items have been added due to a change order isn't really all that important in the Job itself. We have found that best practice is just to add a new Job Task (if needed) or worst case, use a user defined field and update a Job Planning Line with a change order tracking number.
Engineering Design in Business Central
Engineer to order manufacturing involves a lot of engineering (hence the name). The bill of materials created by engineers in ETO manufacturing in Business Central is best handled with Job Planning Lines. These lines allow an engineer to create and track the bill of material needed by the customer.
Uploading lines of a BOM via Excel is extremely easy particularly since Business Central is so "Excel friendly" in general.
One key feature that Business Central lacks, but Sabre has added to our Sabre ETO product is a BOM change tracking capability. This is intended to allow a customer to upload a BOM by Excel to an intermediate stage (a "Draft" BOM). From here, the engineer can see which items need to be created, whether any existing items are being changed, whether anything is removed.
An alternative choice is CADLink, which is the industry standard for bi-directional linking between most CAD software packages (SolidWorks, SolidEdge, Inventor, AutoCAD etc.) and ERP Systems including Business Central.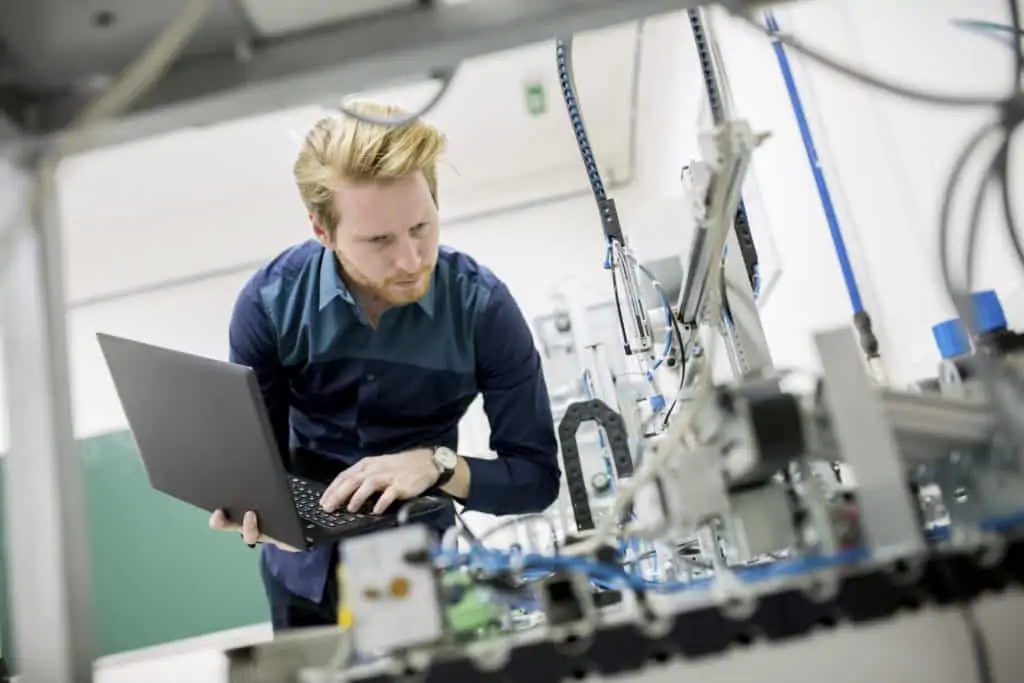 Purchasing for Engineer to Order in Business Central
The purchasing process for an ETO is quite different from the purchasing process in standard production manufacturing. For one thing, the typical ETO is often buying items for one time use, that will never be purchased again. They rarely have preferred vendors with purchase history for these items. They will have a vendor or group of vendors who they buy a commodity from (eg: Cylinders or Solenoids) but they are unlikely to have a fully fleshed out item list with a preferred vendor and vendor part number for each item.
Instead, a typical ETO is going to have the engineering designer do some of the purchasing work by sourcing and getting quotations for items. This is a huge difference in ETO manufacturing in Business Central as compared to production manufacturing. It is also fairly common that the engineering designer passes the work to a purchasing team to buy and track the items.
Finally, most ETO projects have an assigned project manager, who needs to know everything that the designers added to the BOM have been purchased or dispositioned.
DISPOSITION:
The act of deciding how something will be handled. This could mean purchasing, having an internal resource make something, or taking it from some stock location (eg: common wire and electrical connectors might be kept in stock).
The most important requirement of any ETO is the ability of the project manager to see that everything is ordered and its expected date of arrival.
If you talk to 10 ETO manufacturers who need a new ERP, 9 of them will say that the visibility of materials is a huge problem for scheduling and planning their deliveries. Keeping track of when materials should arrive, what has arrived, whether it has been picked for a job and the various data is the critical need of the majority of Engineer-to-Order manufacturing companies.
Conclusion
I could go on for some time writing about the needs of ETO manufacturing in Business Central. The purpose of this article is to give some good advice to a business implementing Business Central for Engineer-to-Order. The Sabre ETO addon (published on Appsource) is designed to help with most of these needs. We are constantly enhancing it to fill out the missing pieces in Business Central. As time passes, more and more great features are being added.
If you are interested in learning more, we are experts in manufacturing for Business Central, including Engineer-to-Order, so don't hesitate to reach out and ask us any questions you may have about your Business Central ETO project. We are well known for our fixed fee implementation model that is designed specifically for the manufacturing industry. Our Sabre ETO Addon was created to close the gaps that ETO manufacturers struggled with in Business Central. Don't hesitate to call us at (519) 585-7524 x.45 or contact our team, we're excited to talk with you soon!