With a substantial range of programs available, funding programs for Canadian Manufacturers can help offset costs for many significant initiatives, such as tech adoption, business expansion, hiring and training, and research and development. Although funding programs are available federally, provincially, and territorially, maintaining an in-depth understanding of each and every unique program (including objectives, deadlines, and eligibility criteria) can be difficult for many businesses that aren't familiar with the funding landscape.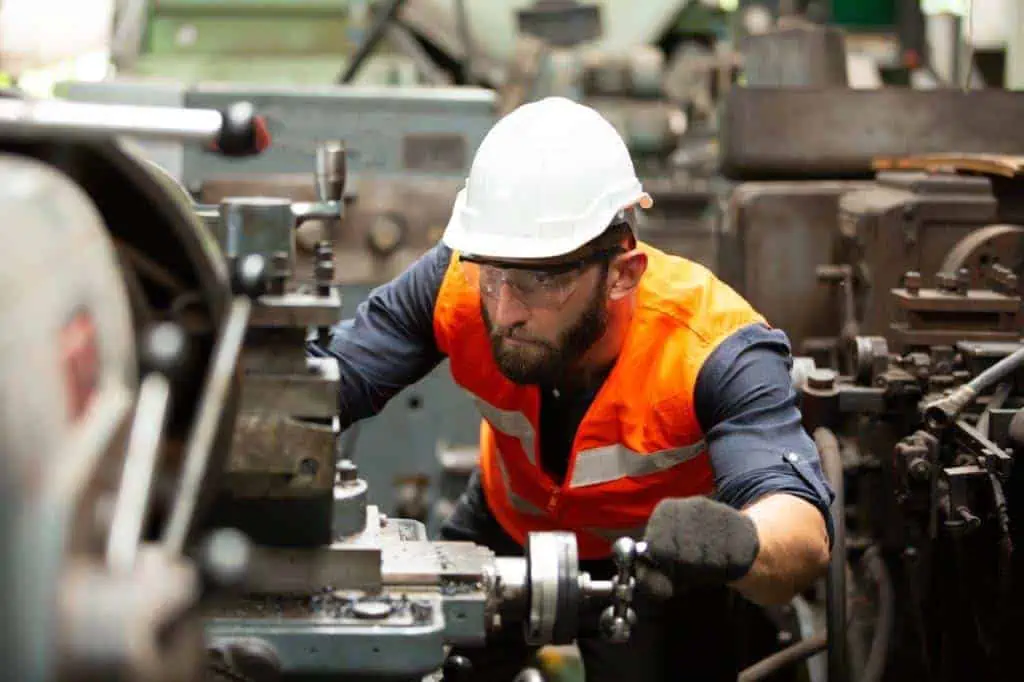 Funding Programs for Canadian Manufacturers
Delivered through the federal government across the country, the following are three of the top government funding programs currently available to help eligible Canadian manufacturing businesses with projects focused on economic growth and innovation. It is worth noting that most high-level funding programs are only able to help mature businesses that have been incorporated in Canada for at least 3 years have 15 or more employees on the payroll, and which have a positive net income.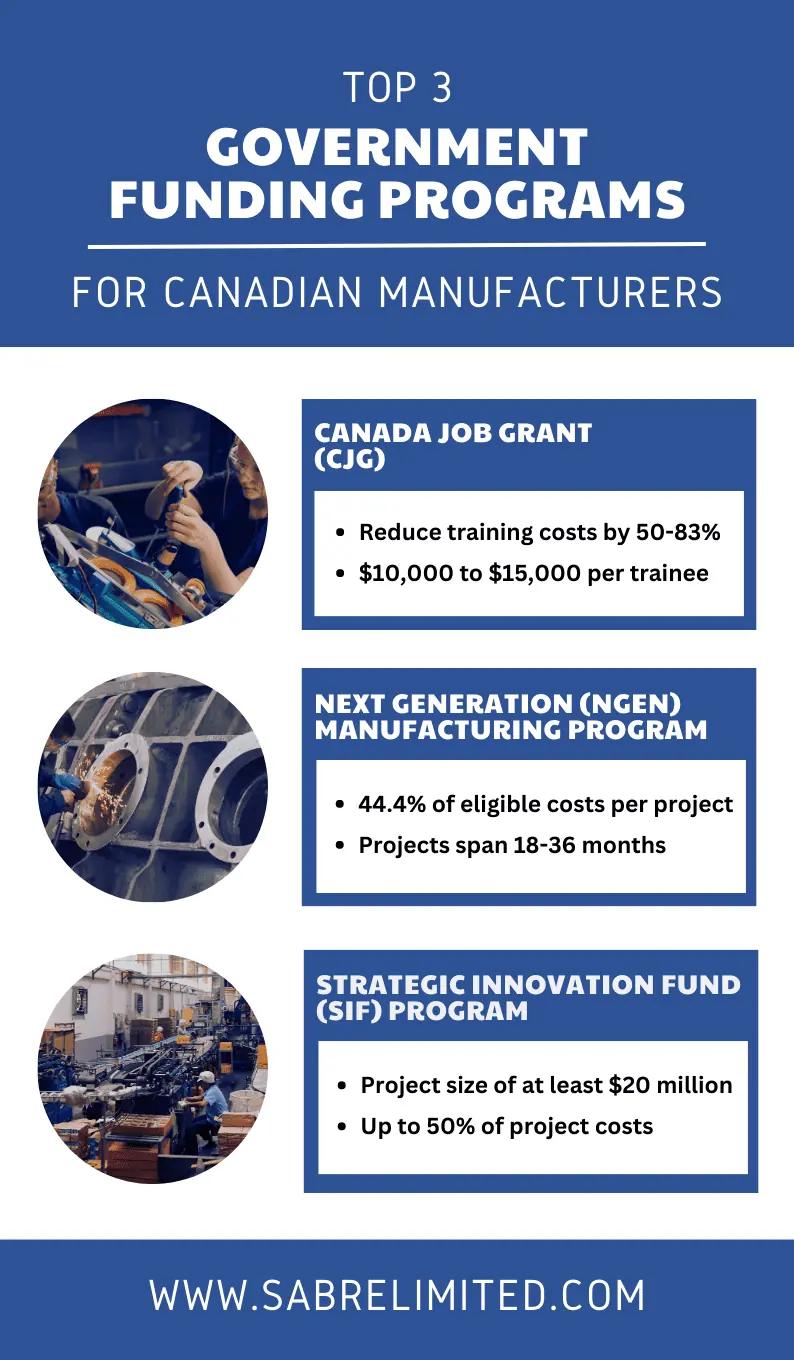 1. The Canada Job Grant (CJG)
One funding program for Canadian Manufacturers that is a staple among countless sectors in Canada is the Canada Job Grant (CJG). Its primary purpose is to help businesses reduce the cost of providing third-party skills training to new and existing employees. Every year, CJG allocates upwards of $194M to support the upskilling of employees so that they can enhance their skillset and become a better asset to their company, and more employable for their sector.
CJG funding can reduce the cost of training employees by up to 50-83%. The program can cover up to $10,000 to $15,000 in training costs per trainee in the form of non-repayable grants. Each province has its own limitations and guidelines to help optimize a workforce and ensure all employees are contributing to operational success.
All training programs must be provided by an eligible training organization (no internal training programs) and should focus on improving business function, including (but not limited to): lean manufacturing principles, customer service, project management, financial planning, food safety, strategic planning, general management, leadership, software and technology, and sales and marketing.
2. The Next Generation (NGen) Manufacturing Program
The Next Generation (NGen) Manufacturing Program provides support for collaborative technology development projects that can help Canadian manufacturing businesses compete globally. As administered by NGen Manufacturing Canada, the program supports groups of businesses that research and develop high potential, innovative technologies to generate groundbreaking process transformation to de-risk the adoption of new technology.
Through the NGen Manufacturing Program, innovative partnerships, comprising of an eligible business working with at least three private sector partner companies, can receive up to 44.4% of eligible costs for projects valued between $500k and $20M.
Eligible projects typically span 18-36 months and are complete upon the successful implementation of new, technology-based manufacturing innovation.
3. The Strategic Innovation Fund (SIF) Program
The Strategic Innovation Fund (SIF) is a unique program targeted to support Canada's industrial and technology sectors. These types of funding programs for Canadian Manufacturers offer financial support (both grants and loans) of up to 50% of project costs for activities that drive sustained productivity and economic benefits. SIF focuses on large-scale projects that request at least $10 million in contributions, meaning the minimum project size must be at least $20 million.
There are five streams of funding provided through SIF, and applicants can align their projects to address one of the following areas: (1) Research, Development, and Commercialization, (2) Business Growth and Expansion, (3) Investment Attraction and Retention, (4) Collaborative Technology Development and Demonstration, and (5) National Ecosystems.
Conclusion
These funding programs can assist you with absorbing the costs of Business Central Training for your manufacturing company. Sabre Limited has helped many companies to apply for grants and If you are interested in any of the three highlighted government funding programs for Canadian Manufacturers listed above that are available for manufacturers in Canada, you can learn more about your business' eligibility and how to optimize the funding application process by connecting with the Mentor Works team of professional grant writers.
Author: Alena Barreca – As a Marketing Coordinator at Mentor Works, Alena helps Canadian business owners by creating educational awareness content about government funding.
Mentor Works is a business support organization specializing in Canadian government funding. The Ontario-based business has helped hundreds of businesses build and execute their funding strategy through a mix of federal and provincial government grants, loans, and tax credits. Mentor Works offers free online resources, funding webinars, and news via their website at www.mentorworks.ca