Calculating the Implementation Costs of Business Central
One of my key jobs at Sabre is explaining Business Central implementation costs to customers and prospects. The details of costs are not something that other MS Dynamics implementation partners generally publish and make available.
This can make customers uncomfortable with ERP projects, especially today when we expect to find prices for purchases online and at our fingertips.
It can be a painful process to try and determine your budget for a Dynamics 365 Business Central project. We think being upfront and center with Business Central implementation costs is the best way to go.
This article is a walk-through of how we calculate the Business Central implementation costs for a manufacturing customer. We give some examples (taken from our published pricing which you can find here). This is all based on and around our industry-leading implementation and training model for Business Central manufacturing.
What Licenses Would you Need for Dynamics 365
I wrote a very extensive blog on the Dynamics 365 licensing needs in 2021. My article on selecting the right Business Central license types (you have to choose between Premium and Essentials) is a great guide and I highly recommend you review it.
In the meantime, here's a brief review:
Two Main Business Central Versions
Essentials and Premium are the two versions of Business Central. Here is my explanation of these two versions and who needs them.
Essentials: This version lacks the Production Manufacturing modules and the Field Service modules of Business Central. It includes all other modules, such as finance, inventory management, warehousing, assembly, project accounting, and much more. Most manufacturing companies do not use Essentials – but some do.

Best used by:
– Engineer to Order
– Small Production or Job Shops
– PrintVis / Print MIS customers
Premium: Premium is usually for make-to-stock or make-to-order manufacturing companies, or companies with a fleet of field service technicians. It adds Production Manufacturing and Field Service modules to Business Central.

Best used by:
– Traditional volume production manufacturing
– Engineer to Order who have a significant field service organization (10+ trucks rolling daily)
The pricing for Dynamics 365 Business Central and the popular addons (like the Dynamics 365 Sales Professional CRM) are shown below. These prices make up a major component of the Business Central implementation costs calculation that you need to budget for in a Business Central manufacturing implementation.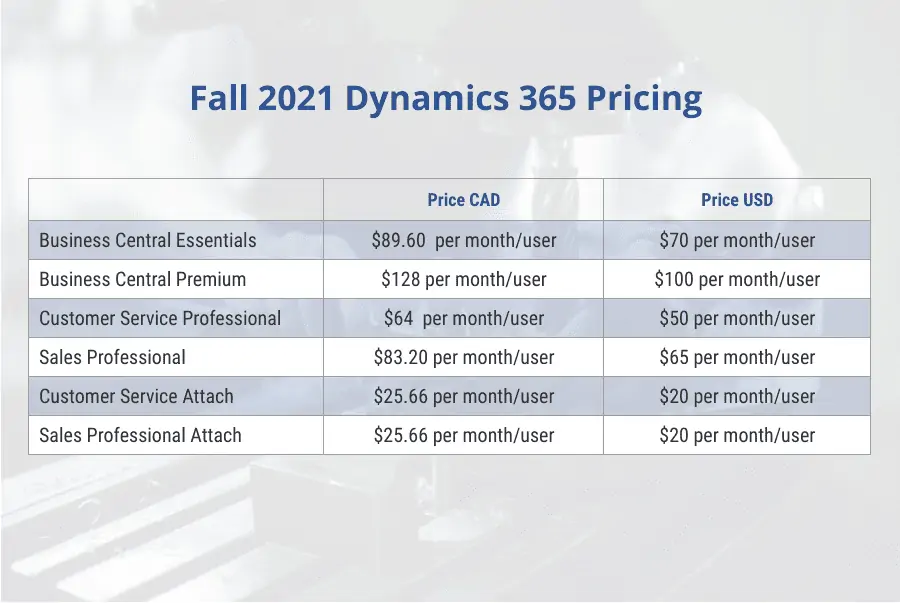 Manufacturing Implementation Pricing for Business Central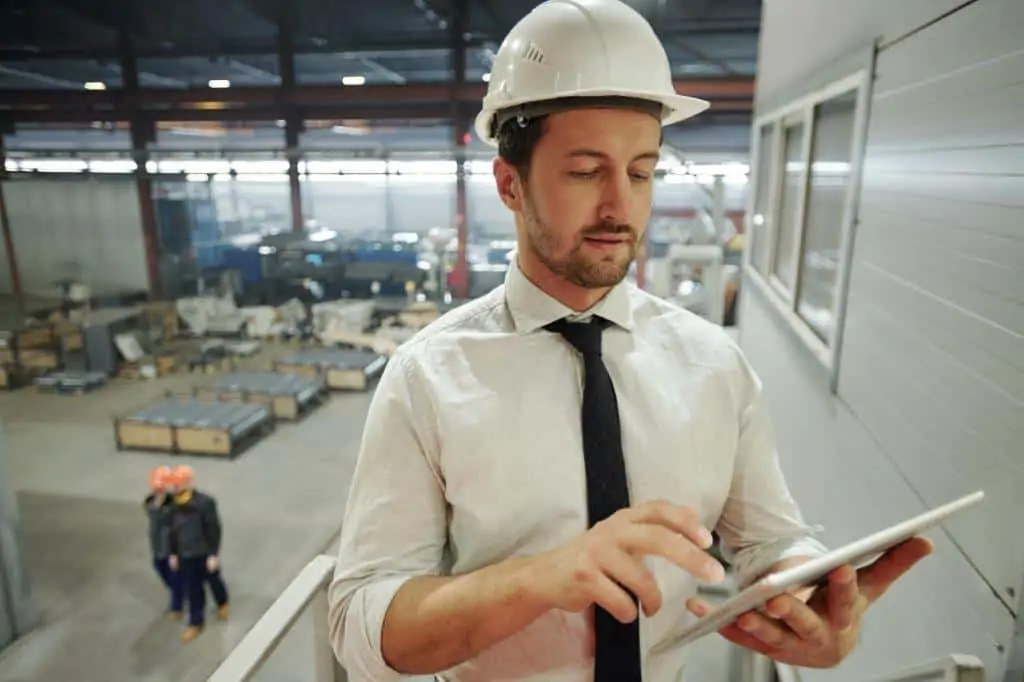 Sabre are experts in providing fixed fee Business Central implementation costs for all the training, configuration, and consulting for a Dynamics 365 manufacturing project.
We are able to provide a fixed fee partially because we've developed a streamlined approach to the training and implementation that we feel is superior to a standard implementation. I've written about the remote Business Central implementation. In fact, I'm so impressed with the approach we've designed that I wrote an article on Forbes.com to share the information generally.
I also wrote a blog on generic Dynamics 365 pricing in the past. This is a good overview, but I want to really dig into Business Central implementation prices in this article. Therefore, I am limiting myself to Business Central implementation costs, and due to our expertise, we'll focus on just Business Central manufacturing.
Sabre Business Central Price Lists
You can look up our pricing by different type of manufacturer and degree of complexity. We've found (over the many years of doing this) Business Central implementation costs for customers tend to fall into three categories of complexity. Basic, normal and advanced. We created bronze, silver, and gold levels of implementation to cover the 95% of cases for each of those levels.
You may say that a simple "cookie-cutter" pricing for every business doesn't make sense. You would be right.
We also noticed that different industries have similarities in their needs. We needed to combine the 3 level pricing with the different combinations of software modules broken out by manufacturing type. In this way, we created all our pricing based on the customer's manufacturing mode.
Business Central Engineer to Order Pricing Example
A pretty typical ERP customer for Sabre is an Engineer to Order (ETO) manufacturer. These companies are often designing capital equipment and assembling or manufacturing a large project.  They might only sell 15 to 30 projects a year (plus service parts and other components, or small one-off jobs).
If you look at the Sabre Engineer to Order pricing guide, you find that Business Central implementation costs are going to depend on the Bronze, Silver or Gold level we discussed previously.
If this Engineer to Order does any service and installation (very common), and is a typical mid-size ETO then our Business Central implementation costs would be at the Silver level.  That is $59,000 USD for the training, configuration and consulting in best practices.  What is hard to predict is all the project management, support, and other unknowns.  Sabre makes this easy by adding a monthly retainer we call Project Excellence (see below).
This customer probably has up to 15 full users as well as a bunch of "team member" users that record time and do non-transactional activities.  Full users are $70 each, and we recommend customers plan for at least 50% additional costs for general addons.
Here is a breakdown of the budget for this project. NOTE: Sabre Project Excellence ends 90 days after the customer goes live. Silver projects usually take about 7 months to get to go live.
Monthly Subscriptions Budget:
$1,575 / Mo
Sabre Project Excellence:
$2,100 / Mo
Project Excellence
Projects have a degree of variability in the cost to deliver them. There are two things that really impact the partner's costs: The duration of the project and the size of the organization.
At Sabre, we've incorporated these two variables into something we call Project Excellence.
Since we do not bill by the hour (except for programming work) Sabre charges a monthly amount based on the size (number of staff) of the project.
The only really fair way to measure the size is by the number of full users that the project will eventually go live with. So if during the sales cycle we determine you will need 30 full users, your Project Excellence is based on that number.
Business Central Job Shop Pricing Example
Let's take the example of a pretty typical small size job shop with 30 employees. This size of business is probably a good fit for a Bronze Business Central manufacturing implementation.
This size of a job shop is probably a contract manufacturer supplying small runs of products for their customers (often larger manufacturers). They might also do a bit of time and material work such as welding and simple machine design.
Of the 30 employees, likely 20 or more work on the shop floor, so 8 Business Central Full Users would be the maximum.
Sabre would recommend (after some more digging to confirm their process) Business Central essentials with some basic addon modules. The Sabre Business Excellence addon (see below) contains the extra features they need to handle the simple time and material and light repetitive nature of their business. The budget for this would look a bit like the following
Here is a breakdown of the budget for this project. NOTE: Sabre Project Excellence ends 90 days after the customer goes live. Bronze projects usually take about 5 months to get to go live.
Monthly Subscriptions Budget:
$840 / Mo
Sabre Project Excellence:
$1,400 / Mo
Their ongoing costs would be the monthly subscriptions plus $700 for Business Excellence (see below).
Business Excellence and Enterprise Excellence
The fixed fee, "never bill by the hour" approach is great for an implementation. It isn't as good for businesses once they are up and running with the system and they want to do more with it.
Sabre has a plan called Business Excellence specifically for this case.
Business Excellence is a support agreement on steroids. In addition to the typical incident support (questions and answers for our help desk staff), customers are eligible for a "toolkit" of helpful addons that Sabre is constantly enhancing. Also, customers gain access to the same consultants that trained and implemented them for regular check-in sessions we call Business Excellence Coaching.
This support model has been wildly popular, with over 90% of customers renewing it on an ongoing basis.
Enterprise Excellence is our "power up" for BE. When customers want more support and more engagement, they add a level of Enterprise Excellence that's appropriate for their needs.
Conclusion
Looking online to find out or calculate Business Central implementation costs can be tough to do. Most partners do not want to make this information publicly available.
Sabre has created a pricing model that we think is easy to understand and is fully transparent. In the future, we plan on creating a self-service pricing and calculations page – but until then I've tried to write this article to explain how we use the Sabre Implementation Pricing List(s).
If you want assistance understanding the price sheets or just to double-check your numbers, contact our team today and we'll arrange a Business Central implementation costs review session. We will go over the costs and leave you with an accurate budget quotation after just one meeting.