How Cloud-Based Manufacturing ERP Software has changed with Business Central
Microsoft has been one of the biggest players in the cloud over the last several years. The ERP Play from Microsoft started with their enterprise product, Dynamics 365 Finance, and Operations (formerly Dynamics AX). With the introduction of their new offering, Dynamics 365 Business Central, in the spring of 2018 they began to move into the mid-market. It wasn't until the fall of 2018 (almost 2 years ago as of the writing of this article) that they finalized the migration of their manufacturing suite of features into Business Central.
A little background: Microsoft Dynamics 365 Business Central is the successor to the venerable Microsoft Dynamics NAV.  I've shown customers the differences between the two products, and as of Business Central 14, there really were no differences with Dynamics NAV.  That means that all the core features and capabilities that NAV was so well known for have survived and are available in their entirety in Business Central.
Business Central is Microsoft Dynamics NAV. Realistically only the name changed, and a new more cloud-friendly user interface was added.
Even before Business Central was introduced and rebranded, Microsoft Dynamics NAV had been gaining a name as a top-tier cloud-based system. With NAV 2013 – the reimagined user interface launched the product into a new, modern look and feel. Of course in the software world, 7 years is a lifetime, so Microsoft has revamped it. That said, the underlying features and functions have survived.
Top Features
Let's look at some top features of Business Central (aka Dynamics NAV) as a cloud-based manufacturing ERP software product.
Microsoft Office Integration
Although not necessarily a feature specific to manufacturing, the extensive integration with: Microsoft Word (for form design and printing); Microsoft Excel (for data export and import – even bi-directional real-time data updating); and Microsoft Outlook (for customer data lookup and creation of documents like purchase orders) is really impressive.
Mobile Device Support
Ever been on the shop floor and wished you could look up a purchase order on your phone? Or have a tablet to walk around with and record inspection data, maybe even take a picture of something to store in the system? Well with Business Central you need wish no more. The full PC, Tablet and Phone integration is out of the box and fantastic. In fact, this has been available since Dynamics NAV 2017 at least.
Production, Project or Light Manufacturing
Business Central includes modules capable of multiple modes of manufacturing. The out of the box manufacturing features are full-featured and match what most mid-market manufacturing companies want. All of these features have been a part of the ERP system since Microsoft Dynamics NAV (and even before that, Navision) which is over 20 years. They are well tested and used all over the world by over 130,000 companies worldwide (about 30% of which are manufacturing).
Addons
Microsoft has always encouraged add-ons for its product lines. If you think about it, Windows is a software product designed specifically for people to write programs as "addons." Windows doesn't come with CAD software or a word processor. You buy the one you want.
In much the same way there are many exceptional addons for Business Central, almost all of which are Dynamics NAV add-ons that have been updated to the new Business Central extension programming language. There are also new entries into this Addon market, now that Business Central is significantly more extensible than Dynamics NAV was.
Shop Floor data collection tools. Warehouse barcoding and inventory control. Electronic Data Interchange (EDI) and of course graphical scheduling boards.
AppSource
As I said there are lots of addons for Business Central. That requires some kind of app store, a requirement of any modern cloud-based manufacturing ERP software product. AppSource is Microsoft's enterprise-class software addon headquarters. AppSource is designed to allow publishers to create and market extensions (apps) for Business Central and many other Microsoft products.
There were over 900 apps at the time of writing, and about 100 specifically for manufacturing. These apps are literally a click or two away from downloading and are completely integrated into the system. As I mentioned before, many of the apps in the list are migrated from the Dynamics NAV versions – including Sabre's own app, Sabre ETO.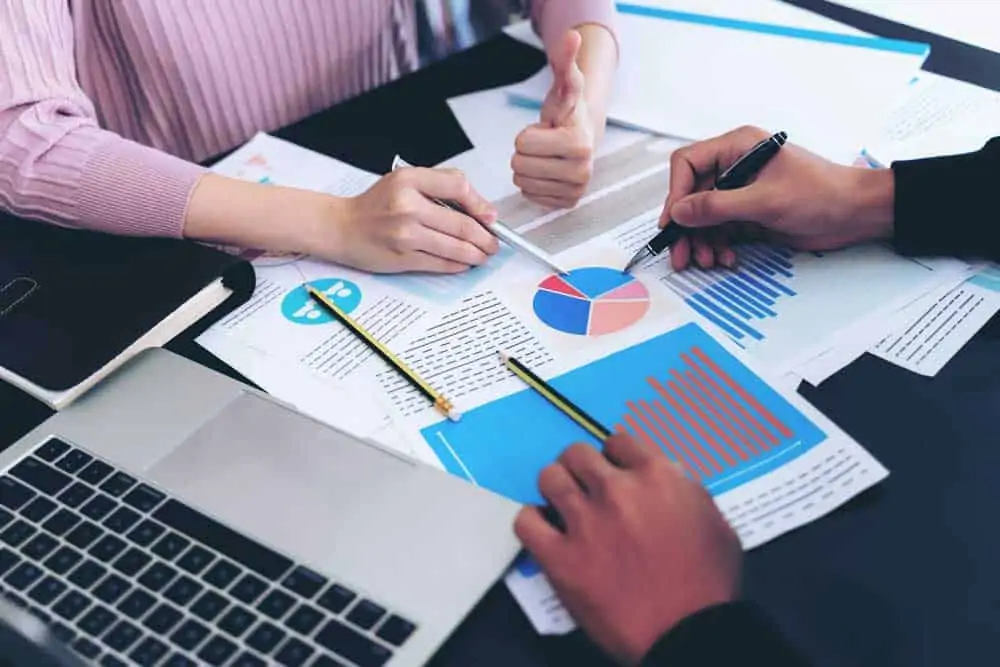 The new Cost of Cloud ERP
Back in the "old days", you would shell out quite a bit of money to buy Dynamics NAV and then have it implemented. For a small manufacturing company, under 20 million in sales, it wasn't unusual to spend over $100,000 on the software and $150,000 (or 1.5 times the software costs) for the training.
With the introduction of cloud software in general, the math has changed for the better. If you are interested in Business Central as a product, then you might be interested in how the cost and Return on Investment (ROI) have changed. Here is a brief overview and idea generator to help you calculate the Return on Investment (ROI) of purchasing and implementing Business Central.
Today with any cloud-based manufacturing ERP software product (unlike the on-premise systems like Dynamics NAV), there is a new paradigm for the implementation and roll-out of the software. Here are some things to expect.
Reduced User Count during Training of Business Central
Unlike the days of buying Microsoft Dynamics NAV, you likely won't buy software for every user in your organization upfront. Instead, you pay to subscribe to 25-35% of the total users (and therefore have 25-45% of the costs) during the training and implementation phase. This saves thousands of dollars over an average 6-month implementation.
Less Capital Outlay for Business Central
You will not have a very large, upfront purchase of software. Although some vendors handle their subscriptions on an annual basis – Microsoft charges month-to-month for almost all their software. Your first year of software costs will probably be 15% of what they were in the past.
The average calculation on the back of the napkin is it takes about 5 to 6 years to "break-even" compared to the capital outlay if you include hardware costs, maintenance, software renewals, the original purchase, implementation time, etc… That does not include the time value of money, which would stretch that out even more.
Simplified Business Central Training
Modern Training is cloud-based, just like the software. This means that you should expect a much lower cost for travel, accommodation, etc. Good training will include an instructor helping you get the system up and running, but will also provide you with video-based training products – and access to a help or support line to get you answers quickly.
NOTE: Since originally writing this article, there has been a massive move to this approach in 2020. Sabre has been pioneering and using this training method for Dynamics NAV even before Business Central or COVID existed. Having experience with remote training and implementation of ERP is a critical skill Sabre has refined and perfected.
Prescriptive vs Consultative Business Central Consulting
Finally – you need to choose whether you want a prescriptive (meaning a well-defined "cookie-cutter" implementation) or consultative one. This is a relatively new choice that has been facilitated by Dynamics Business Central. It is usually driven by the partner as well as the customer. A prescriptive partner will have a well-defined implementation approach, focused on what they have determined are the best practices for your industry. A consultative partner will analyze your business and design an implementation that is bespoke – just for you. Most Dynamics NAV partners still approach implementations this way.
Research has found that the prescriptive approach is more successful and less costly. That said, it isn't for everyone. If you feel that you don't fit into a best practices approach, you may need a consultative partner and implementation. Here at Sabre Limited, we think that for a cloud-based manufacturing ERP software product, a prescriptive approach with a well-defined fixed fee implementation is best.
Learn More about Sabre's prescriptive approach to implementing cloud-based manufacturing ERP software product!
Need Some Help?
If you have any questions or want any help understanding Business Central and cloud-based manufacturing ERP software, give us a call at: (519) 585-7524 x.45 or contact our team, is excited to talk with you anytime!