As a manufacturing professional, you need to understand the importance of keeping up with technology advancements to maintain your competitive edge. However, managing your IT infrastructure can be a significant challenge, especially with the constant evolution of technology and the increasing complexity of cyber threats. As a result, many manufacturing businesses are turning to Managed Service Providers (MSPs) to handle their IT needs. But what is an MSP?
In this article, we will discuss what an MSP is, what they do, the advantages of working with an MSP, and how to choose the right MSP for your business.
What is an MSP?
An MSP is a company (like Sabre) that provides a range of IT services. Here at Sabre, we specialize in providing IT services for manufacturing businesses like yours. Some MSPs focus on certain verticals such as manufacturing, law, or healthcare, whereas others have no vertical at all.
Other MSP provide services in a horizontal approach, focusing on common elements (everyone has a network after all) and not limiting themselves to a vertical or specific industry.
It is important to align with an MSP that would be best for your situation.
MSP services are designed to cover your IT needs so that you can focus your time and energy on your core operations. There are a wide range of services provided by MSPs, including network management, server management, cloud computing, data backup and recovery, cybersecurity, and many more.
By partnering your manufacturing business with an MSP, you can benefit from their knowledge, expertise, and experience, avoid costs of purchasing and maintaining your own IT infrastructure, and increase your cybersecurity.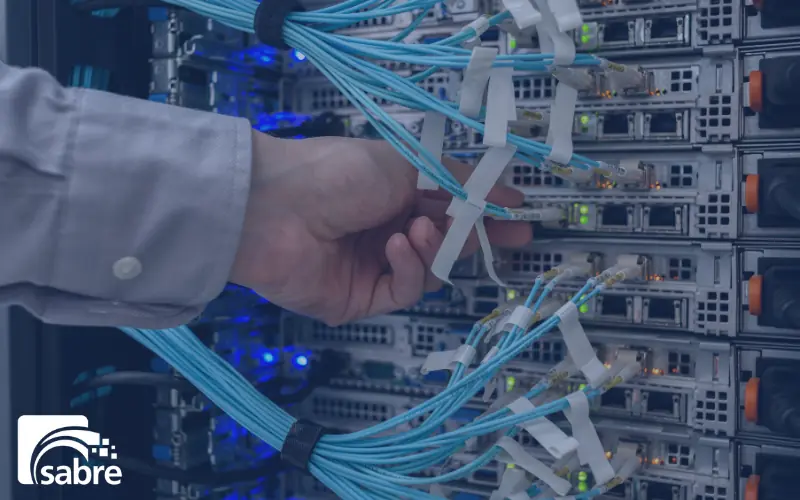 What Does an MSP Do?
In simple terms, an MSP is like having a team of IT experts working for your business, without the cost of hiring an in-house team. They take care of your IT infrastructure, ensuring that your technology is updated and running smoothly, securely, and efficiently.
There are a range of services that MSPs offer, including:
Network Management
Network management services offered by MSPs include managing your network infrastructure (routers, firewalls, and switches) to ensure that the network is reliable and secure. This typically involves monitoring network activity, identifying and addressing potential vulnerabilities, and troubleshooting network-related problems that can arise.
Server Management
Server management services involve the MSP managing your servers. This includes installation of servers, maintenance, and troubleshooting. Server management also includes managing server performance, ensuring that all software is up-to-date, and backing up your data to prevent data loss in situations like a server failure.
Cloud Computing
Cloud computing is an increasingly popular IT solution. That being said, many businesses still fear transferring their data to the cloud. However, an MSP can help you move your infrastructure and applications to the cloud and manage and monitor your new cloud environment. The MSP will ensure that your cloud environment is secure, optimize cloud performance, and provide technical support for cloud-related issues that may arise. Although some business owners still fear the cloud, experts are forecasting cloud services to grow by over 400% by 2032.
Data Backup and Recovery
Data backup and recovery is a service that MSPs offer that should not be overlooked. This service involves backing up all critical data to ensure that it can be quickly and easily recovered in the event of a data loss. An MSP can help set up automated data backups, test data recovery procedures, and provide you with disaster recovery planning to make sure that your data is safe and can be recovered easily.
Cybersecurity
Threats to cybersecurity are becoming increasingly common and sophisticated. In tandem, cybersecurity is becoming more complex as MSPs find more proactive ways to help businesses protect their networks and data. An MSP can help manufacturers protect their networks and data from cyber threats. Some of the ways they can increase your cybersecurity are by implementing firewalls, antivirus software, monitoring network activity, responding to security threats, and training your employees in cybersecurity best practices.
Help Desk Support
Help desk support services involve providing technical support to your employees, such as troubleshooting hardware and helping with software-related issues. These services include providing remote and/or onsite support, responding to IT-related issues in a timely manner, and making sure that your employees can get back to their task as quickly as possible.
By offering these services, MSPs provide manufacturers with a comprehensive IT solution that meets their businesses unique needs and helps them achieve their business goals. As previously stated, an MSP is there to work on critical cybersecurity issues so that you can remain focused on the core tasks and goals of your business.
Advantages of Working with an MSP
By partnering with an MSP, your manufacturing business can benefit from a range of advantages, including:
Access to expertise, knowledge, and experience: MSPs hire dedicated IT professionals who have a wealth of knowledge and experience in the field. By partnering with an MSP, your business can gain access to a team of IT experts who can help navigate through complex IT issues and provide solutions that meet your needs. Good MSPs stay up-to-date with the latest technological advancements, best practices, and security measures. You can expect to benefit greatly from their knowledge and experience.
Cost savings: Another advantage to working with an MSP is cost savings. Hiring and training an in-house IT team can be extremely costly, especially for small and medium-sized manufacturing companies. By outsourcing your IT services to an MSP, this eliminates the need to invest in expensive software and hardware, hire and train IT staff, and maintain the IT department. Some MSPs also offer flexible packages, allowing businesses to pay only for the services that they need, which can reduce the IT expenses quite significantly.
Enhanced cybersecurity and risk management: Threats to cybersecurity are a growing concern for manufacturing businesses, and protecting your company against these threats can be a complex and challenging task. MSPs offer a range of cybersecurity services that can help protect your business such as firewall management, antivirus software, data encryption, and many more. Make sure to see what services are available from the MSP that you're looking to partner with to ensure that they align with your needs.
Boost in efficiency and productivity: While the MSP is taking care of all your IT-related issues, you and your team can focus on your businesses core operations. With an MSP managing your IT infrastructure, you can reduce the time and resources that are required to manage IT issues that arise and allocate more resources towards growing your business. MSPs also provide quick technical support, allowing your employees to get back to work quickly after the issue has been resolved.
Scalability and flexibility: Manufacturing businesses are constantly evolving, and their IT needs may change as the business grows. Many MSPs offer scalable solutions that can adapt to your business as your needs change. Your MSP should be able to easily add or remove services based on the changing needs of your business, ensuring that your IT infrastructure is always aligned with your business objectives. Many of these MSPs with scalable solutions also offer flexible pricing options, allowing you to only pay for the services that you need.
Overall, partnering with an MSP offers a myriad of advantages to manufacturers including access to knowledge and experience, cost savings, enhanced cybersecurity, increased productivity, scalability, and flexibility. By partnering with an MSP, your business can gain a competitive edge as you focus on what you do best and leave the IT needs to the experts.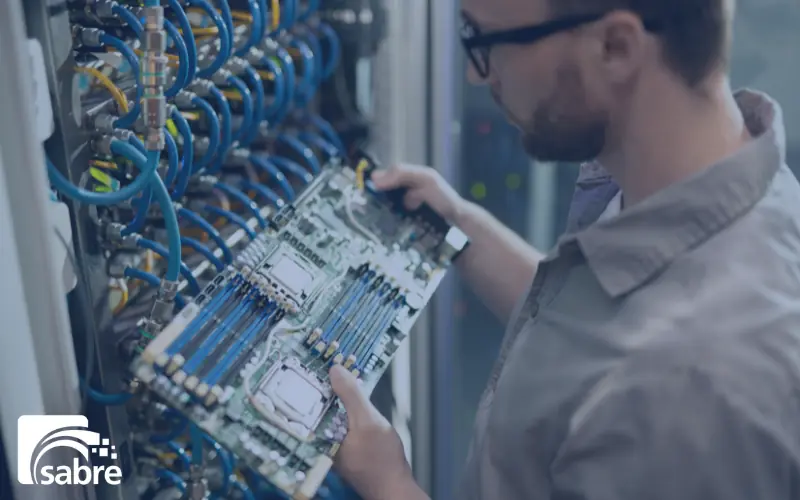 How to Choose A Managed Service Provider
Choosing the right MSP is a very important decision for your business. The MSP is responsible for managing and protecting your company's critical IT systems and data. There are a few key factors to consider when choosing a managed service provider:
Services offered: before you choose an MSP, make sure you know which services you need. Once done, look for an MSP that offers all of the services that you need. You should also make sure that they specialize in the services that are most critical for your business.
Experience and expertise: find an MSP that has experience in your industry and with the software and systems that your business uses. Ask them for references and case studies from other businesses in your industry to get a better sense of the MSP's expertise.
Scalability: you need an MSP that can grow alongside your business. As your business expands, your IT needs may change, so choose an MSP that can scale its services.
Service level agreements (SLAs): SLAs define the level of service expected by a customer, including response times and availability. Look for an MSP with SLAs that meet your needs and that offer guarantees on uptime and response times.
Cost: this is an important factor to most businesses. However, you should never choose an MSP solely based on the price. Find an MSP that provides the most value for its services and that fits within your planned budget.
Another factor to consider when choosing an MSP is their vertical. Try to find an MSP that is an expert in your vertical. As experts, they will have much more knowledge to provide you with best practices for IT in your industry.
Choosing the Right MSP
When choosing an MSP, you need to consider several factors, such as industry expertise, service level agreements, and pricing. To help you make an informed decision, here are some questions to ask when evaluating MSPs:
What specific services does the MSP offer, and how do they align with your business needs?
What level of support can you expect, and what are the response times for different types of issues?
Does the MSP have experience working with businesses in your industry, and can they provide references?
What are the pricing and contract terms, and are there any hidden fees?
By asking the questions above when evaluating MSPs, you can choose an MSP that provides the specific IT services that you require, offers effective communication and support, understands your industry, and has transparent pricing and contract terms.
Managed Service Provider Pricing
We spoke about cost being an important factor when hiring an MSP. Managed Service Provider pricing changes from MSP to MSP, and there are different pricing models. Therefore, I can't speak entirely about the pricing on the industry as a whole. However, I can comfortably explain how Managed Service Provider pricing is done here at Sabre.
Sabre uses a fixed-fee pricing model that allows you to add and remove certain features as you see fit. When taking a look at our managed services, the prices are broken down into three parts:
Starter Package: the starter package is our Proactive Maintenance & Cyber Basics package which includes an Advanced Business Class Firewall, Modern Switch, WiFi Access router(s), backup solution, remote LTE support, and remote managed power bars. The endpoints cost anywhere from [wpcs_price type="fixed" value="USD:45,CAD:54″] to [wpcs_price type="fixed" value="USD:85,CAD:103″] per month (depending on the package), and server packages cost [wpcs_price type="fixed" value="USD:68,CAD:80″] to [wpcs_price type="fixed" value="USD:150,CAD:185″] per month.
Helpdesk Package: our Helpdesk services team is your one-stop-shop for desktop support, Microsoft Office or GSuite Support, Microsoft Teams or Slack support, password resets, printer resets, End-User software support, and technology business reviews. The pricing ranges from [wpcs_price type="fixed" value="USD:22.50,CAD:27″] to [wpcs_price type="fixed" value="USD:62,CAD:75″] per month, depending on your business needs.
Fractional CIO (vCIO) Services: vCIO services aim to help businesses make informed decisions about their information technology (IT) investments, avoiding poor or uninformed choices. These services can help prevent businesses from investing in outdated or ineffective technology that may not meet their needs. The cost of vCIO packages range from [wpcs_price type="fixed" value="USD:450,CAD:550″] to [wpcs_price type="fixed" value="USD:1600,CAD:2000″] per month, depending on your current needs.
With these three parts you are able to completely customize your package. Note: both Helpdesk and vCIO packages are completely optional when working with Sabre.
Conclusion
So what is an MSP? An MSP is a company that provides a range of IT services and becomes your cybersecurity experts so that you no longer have to worry about them as much. While your MSP makes sure that your business is safe from cyber threats, you're able to focus on operations that can continue growing your business.
By partnering with an MSP, you can stay ahead of the curve by being provided with access to specialized IT expertise, advanced security measures, and cost-effective IT services. When choosing an MSP, make sure to evaluate your options and select a provider that aligns with your specific needs and goals. By working with an MSP, you can focus on your core operations and leave your IT needs in the hands of experts.
Want to learn more about MSPs or the services that are provided by Sabre IT? Give us a call at 226-336-6259 or email us at itsales@sabrelimited.com to learn more today.