Print MIS have moved into the big leagues with the PrintVis MIS solution for Business Central
PrintVis combines a number of critical features and industry support that is about to launch it into the leadership of the North American Print MIS market. Here are 5 reasons we think PrintVis is about to become a giant killer in the US Print MIS market.
PrintVis has the support of Microsoft (and most recently Kodak), and that alone is a major reason to consider the product.
PrintVis is integrated into a main-stream, top tier ERP system (Microsoft Dynamics 365 Business Central) and benefits from it's features and ecosystem
Multiple partners in North America are available to choose from to implement the system. Competition between partners benefits customers.
There is a community of developers and talent who know Microsoft Dynamics. There are also addons and product line, giving customers options no other Print MIS offers.
PrintVis is highly competitive in pricing for both training and implementation and the software.
A bit of Print MIS background
This article is intended to discuss a new entry in the graphics arts manufacturing software market. Just a brief review of the existing Print MIS market in North America might be in order. Up until now, the market has been controlled by a very few key players. The main actors are as follows:
EFI Print MIS Products
As almost anyone in the graphics industry knows, EFI has been acquiring Print MIS products for a number of years. Between 2003 and 2015 EFI purchased at least 15 MIS systems from all around the world. After these purchases, they have settled on 4 core systems they continue to support. EFI itself is of course a hardware and equipment manufacturer as well as supplier of production materials to the print manufacturing sector.
The four core Print MIS solutions from EFI are:
EFI Printsmith
Pace or ePace
Monarch
Radius
Avanti
Avanti is headquartered in Toronto, Ontario and has recently been acquired by Ricoh. Avanti has been around for a fairly long time, and has a pretty significant footprint in the market. Avanti SlingShot connects to common accounting systems, including Quickbooks and Microsoft Dynamics. It is very focused on the commercial print industry and has tailored features specific to the industry.
Tharstern
Tharstern is a UK based Print MIS system that is entering the US market recently through offices in the Atlanta greater region. Tharstern is relatively new to the US and Canada. The Tharstern product isn't as well known in North America as the previous list, and as such there aren't a lot of companies using it my comparison.
PrintVis
PrintVis Print MIS is the newest player in the US and Canadian market for graphics arts manufacturers. Unlike the other solutions in the market, PrintVis leverages a more main-stream ERP system in Microsoft Dynamics Business Central. Where most Print MIS systems will integrate with an external accounting system (more than half the systems we mention do so), PrintVis approaches this very differently. PrintVis is built INTO the Microsoft Dynamics 365 Business Central system. As such, it doesn't integrate into the accounting system so much as it becomes part of the accounting system.
PrintVis is also different from the other systems as it supports numerous types of print manufacturing all in the same system. Commercial print (of course) but also label and sleeve printing, folding carton, wide format, flexible packaging, and almost any other variation of manufacturing that applies ink to a substrate.
What is Dynamics 365 Business Central
Business Central is an ultra-modern cloud ERP system from Microsoft. Up until 2018 it was better known as Microsoft Dynamics NAV – a product well regarded in the general business community for its accounting, inventory management, fulfillment, CRM, manufacturing, and other mainstream business workflows. In 2018 and 2019, Microsoft released the newest version of Microsoft Dynamics NAV and rebranded it as Dynamics 365 Business Central.
Business Central integrates tightly with Microsoft Office and is designed to run in a web browser. The product is fully supported on a Mac, PC, or even Google device. The software runs in Chrome, Edge, Safari, Firefox, or any mainstream web browser.
Like many cloud solutions today, Business Central is designed to be integrated into. This means that any third party who wishes can publish "apps" for Dynamics 365 much like Apple or Google allow apps to be published for their phone operating systems.
5 Fantastic Reasons to Pick PrintVis
Reason 1 – Microsoft
From personal knowledge, I know for a fact that Microsoft is backing PrintVis entry into this market, and is actively supporting them in the effort. I am certain this is part of the reason that Kodak has partnered with PrintVis and Microsoft.
There are a number of "main line" ERP Vendors. The biggest of these are SAP, Oracle, and Microsoft. The average Print MIS market target customer has long been one that these main vendors have either ignored or avoided. There are a few reasons for this. One is the size of the individual companies in this space.
Most of the focus of SAP and Oracle have been on very large customers, much larger than the typical graphic arts manufacturing company. Microsoft has generally been focused on those large customers also, sometimes at the expense of the family-run business that makes up the bulk of the print manufacturing segment.
Microsoft has gone back and forth in supporting ERP systems in the smaller half of the mid-market. This changed with Dynamics Business Central. The Microsoft Business Central product is specifically targeted at the small and medium end of the mid-market for ERP sales. This means that businesses who want to spend less than $1000 a month on a system can access it.
Encouraging and supporting PrintVis now makes perfect sense to target the Print MIS market – one that is perfectly sized for Business Central.
Reason 2 – Dynamics 365 Business Central
PrintVis for commercial print is a Print MIS software built INTO Dynamics 365 Business Central – a main line ERP from Microsoft.
There are two images below. One is Business Central "out of the box" and the other is PrintVis. Can you tell the difference?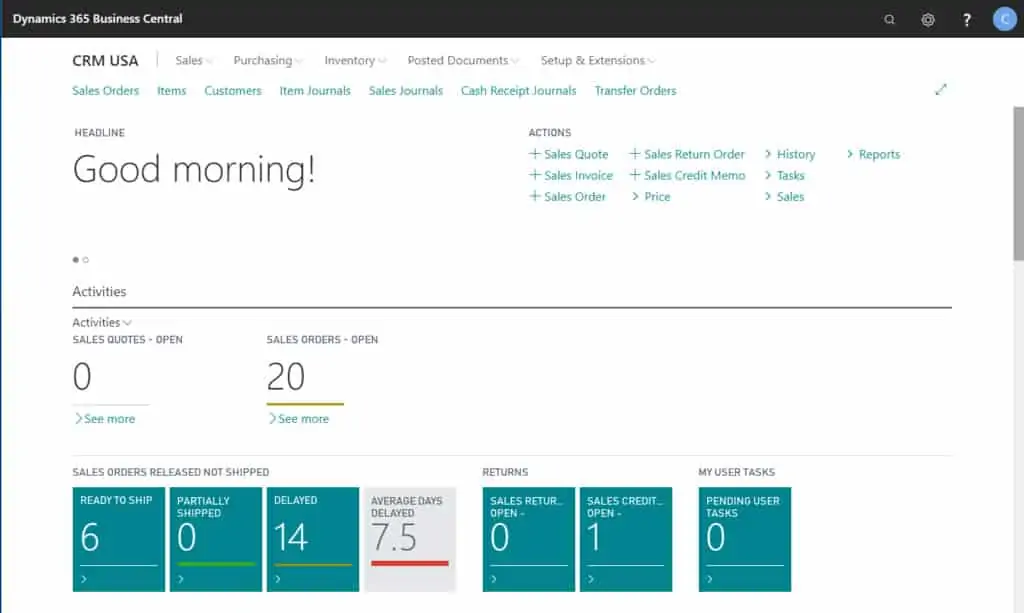 The fact that PrintVis is built entirely INTO Business Central as a Print MIS addon is the strength of the product. Microsoft spends literally billions of dollars (that's with a B) annually on research and development. Much of this is to strengthen the core user-friendliness, programming capabilities, hardware compatibilities, and other "under the hood" features.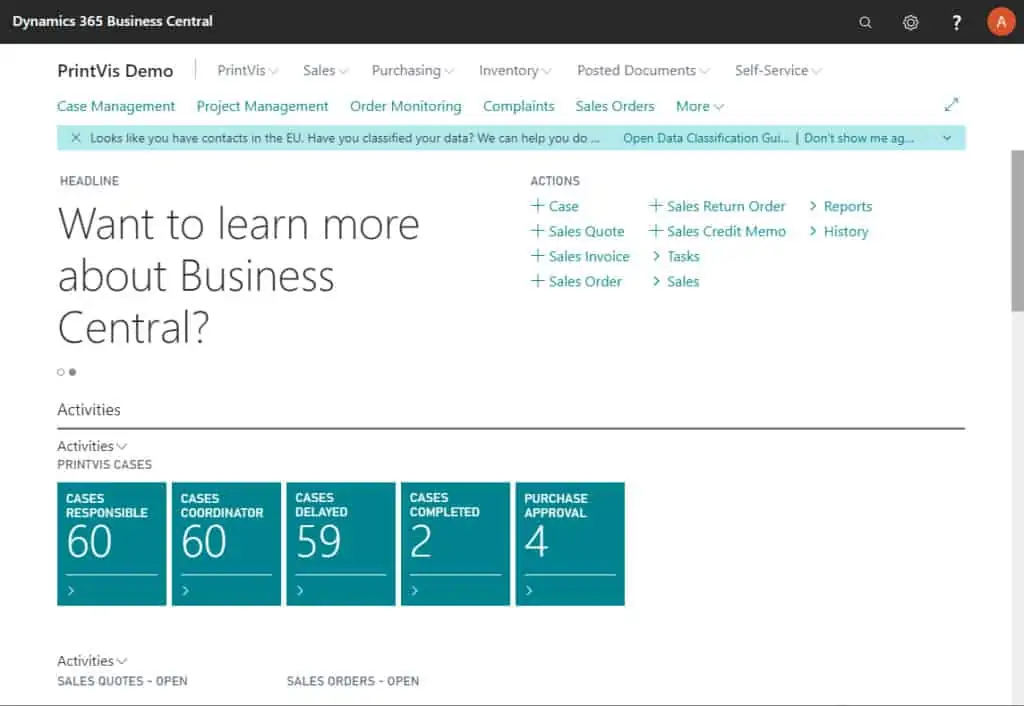 When Microsoft upgrades Business Central, PrintVis is upgraded. The fact that the product is designed "out of the box" to be customized easily and effectively makes this a no-brainer in so many ways. We regularly customize the product for customers. When I'm told what customers paid to customize their previous Print MIS, I am shocked. They're pleasantly surprised when we give them a quote
Reason 3 – Customer Choice of Partner
Microsoft has a model of selling Business Central through a channel of partners. There are literally hundreds of them in North America. PrintVis is more or less forced to sell through this same channel. This is both a strength and a weakness – but it's easy to avoid the pitfalls if you understand the market.
When selecting a Print MIS, it is a powerful advantage to customers that there are many Microsoft partners to choose from. It can be a bit confusing, and like all things, there are better vendors and worse vendors. Sabre has been selling PrintVis for just over 3 years now and is by far the most experienced partner in North America. Essentially every staff member is familiar with PrintVis and works with it on a day-to-day basis.
But … if Sabre were not the right partner for you to implement your Print MIS, either because of personality conflicts or other disagreements, you have choices. You can choose any partner from the PrintVis website.
Today, Sabre has the most experience deploying and implementing PrintVis is the US and Canada. In the next few years, new partners (like Kodak) will certainly develop the same level of skill. Being able to pick up the phone and find a different business to work with is a critical benefit of PrintVis.
Reason 4 – There is a Market of Talent and Modules
Unlike most Print MIS systems, there is a market of talent related to development and use of the Dynamics 365 Business Central software product. There is also a market of addon products that range from extremely powerful Business Intelligence tools like Power BI; to payroll integrations; EDI; and warehouse management software.
Developers are quite easy to find, either by locating a Microsoft Dynamics partner that you can hire or on the open market as individuals. The core products from Microsoft are well documented and there is a lot of on-line training available. This is a huge benefit, as within the traditional Print MIS market there is very little expertise available for hire and most vendors don't open their products and make the development training universally accessible.
Reason 5 – PrintVis is Great Value
Finally, PrintVis is of great value compared to other Print MIS solutions in the market. Business Central itself is a commodity product, available from many vendors. There is well-established monthly pricing for Business Central that's published by Microsoft. PrintVis is available in the Microsoft AppSource as an add-on module.
PrintVis adds either $10 or $50 per month per user, depending on their level of access and the purpose of the license.
For a pretty typical mid-size commercial printer, the cost runs around $3000 a month or less. Small printers are often $1000 or less each month.
The PrintVis implementation and training is affordable also. Sabre offers fixed fee, all in training programs for customers. These are found on our training information page where we have the PrintVis pricing guides for various types of print manufacturers.
Conclusion
Sabre has been selling and implementing PrintVis since 2017 when it was still part of the Microsoft Dynamics NAV product. We've seen it used successfully in commercial print, flexible packaging (both digital and offset), wide format, folding carton, and label manufacturing. The unique approach PrintVis took to implementing Print MIS functionality makes it adaptable to any and all of these systems.
Customers who use PrintVis sing its praises. I have found it extremely unusual for any print company to actually LIKE its MIS system, but you can see from our PrintVis and Sabre customer testimonials that customers really like the system and recommend it to others.
Need some help?
Looking for pricing for PrintVis or Business Central? Check out our price guides on our PrintVis and Dynamics training information page. If you an existing Business Central or Dynamics NAV user and are interested, we can help you determine how you can add PrintVis into your system. If you would like any questions answered give us a call at: (519) 585-7524 x.45 or contact our team, we're excited to talk with you soon!