I wanted to write this Introduction to MRP in Dynamics Business Central (short for Material Resource Planning) for companies considering the Business Central ERP system.
I am writing especially for the Small and Medium manufacturing company (SMB Manufacturing) that probably doesn't use MRP today. In the past year or two, I have noticed a significant increase in interest regarding this technology. Companies looking at Microsoft Dynamics 365 Business Central are often asking about Material Planning.
As the manufacturing economy continues to change every year, the number of companies looking for MRP systems has been growing – and the MRP in Dynamics Business Central is very robust and worth looking into. The potential cost savings and efficiency improvements with this technology are definitely driving the investigations.
MRP In Dynamics Business Central is very robust and worth looking into.
Many of these companies considering Business Central have an older system, some might even be using QuickBooks and Spreadsheets. They are often facing challenges and know they need to move up to the full system. This is by no means a complete introduction, but I feel it gives enough of an overview so people have a sense of what Material Resource Planning is, how it works and what you need to do to make proper use out of it.
Software
MRP is a software module, delivered as part of the Dynamics 365 ERP system. The MRP in Dynamics Business Central is referred to as a "bucketless MRP" – distinct from the "bucketed MRP" used in many older systems.
The market is full of stand-alone MRP systems as well, but my experience is that the limitations on these systems are fairly significant. The biggest issue is the interface with accounting and finance systems. If you are considering adding your own stand-alone MRP to Business Central, we think that is a really bad idea. The MRP in Dynamics Business Central (built on the MRP in Microsoft Dynamics NAV) is very powerful and highly recommended.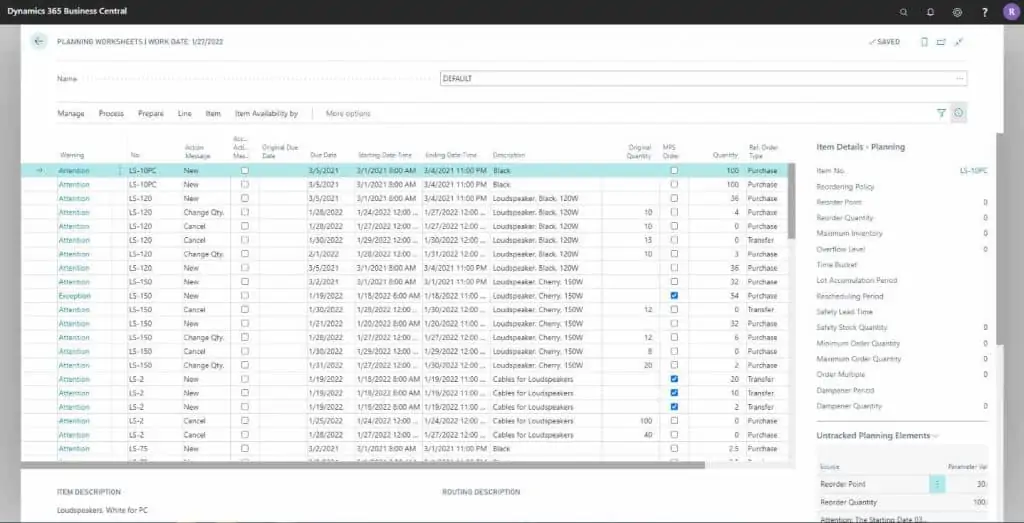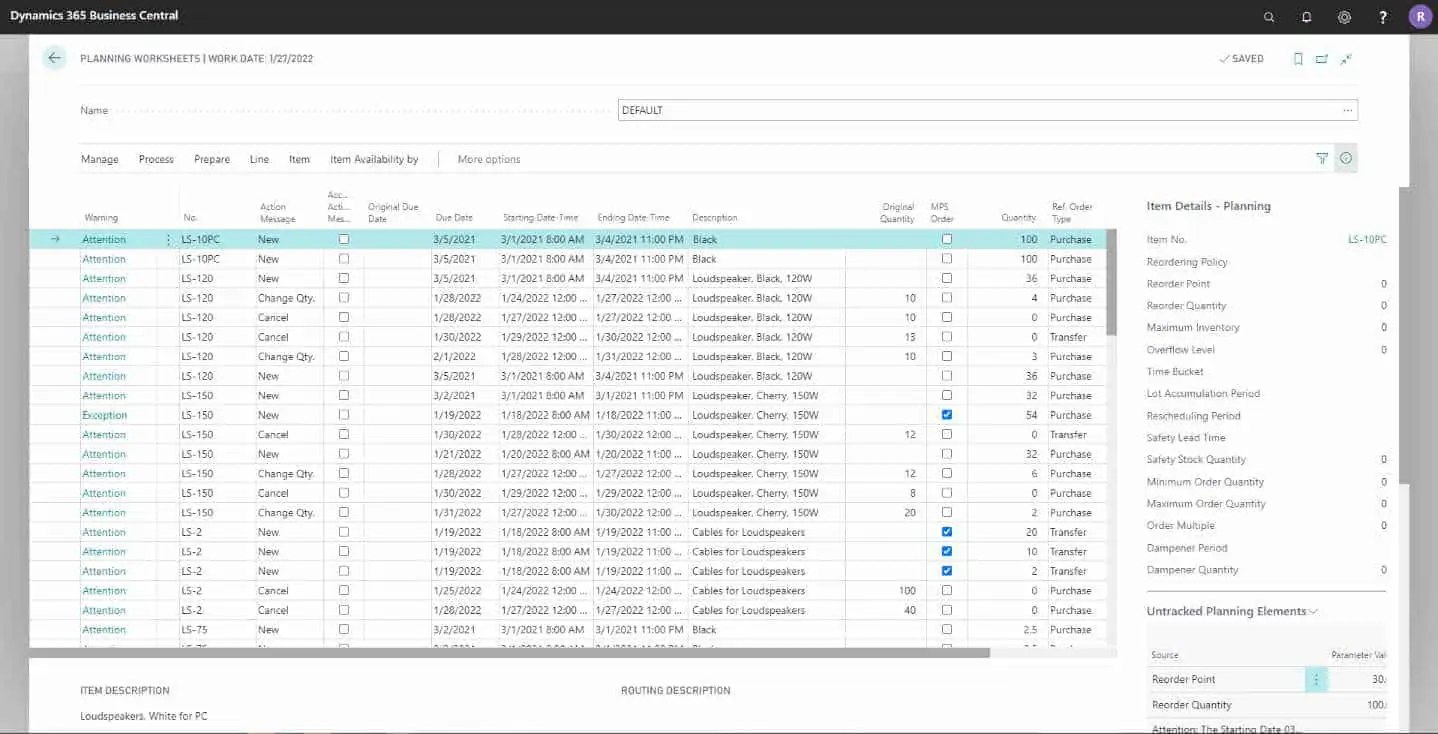 It starts with Inventory
MRP in Dynamics Business Central is basically a system for analyzing and predicting inventory over time. This is a very important concept and is often misunderstood. Although MRP requires some degree of inventory accuracy (how much inventory you have now at this specific moment), in reality, managing order dates in a system are much, much more important. This is because of how MRP works.
How MRP Works
MRP takes your current inventory levels, what sales or sales forecasts you have, and analyzes and plans so you can deliver as soon as possible with the least inventory required. What this means is that those sales and sales forecasts (along with all the accurate delivery dates) are the critical part of MRP in Dynamics Business Central.
Without this, the software really can't do much. Most companies using an entry-level accounting system are not entering their sales orders into that system. They enter shipments only, so they can invoice. This is a radical departure from the way they do it today and the most frequent misunderstanding I see.
What MRP Needs
MRP in Dynamics Business Central needs a few fundamental things to work.
You must have formal part numbers for everything you order and use. Also they must not include duplicate parts that are interchangeable. That means you can't use a vendor's part number unless you only purchase that part from that vendor.
You need accurate bills of material (BOM) for what you make. Also (less important unless you want to do capacity planning), you need accurate routings for what you make.
Bills of material (and the parts on them) need to have accurate unit of measure conversions. An example is tracking how many square feet of material is on a sheet of steel, or how many pounds an inch of bar stock weights. Inaccurate units of measures is one of the most common problems with MRP in Dynamics Business Central when we investigate concerns from customers.
You need to property use the sales order process in Business Central. All your customer's purchase orders must be entered into the system as sales orders. The quantities and due dates (the dates you need to have the parts on the truck by) all need to be accurate, and most important constantly maintained.
You will have a formal purchasing process, with purchase orders and purchase receipts. This means that someone is keying in the same information that your finance department probably does now (quantity to order, unit price, part description and most important, due date).
MRP and Finance Share Data
Because you're entering sales order data and purchase order data into the order management and MRP in Dynamics Business Central. All of this data is automatically transferred to accounting. Unlike a stand-alone system, accounting will not need to re-enter all this data manually.
Integrated MRP and Finance
If you have been using a stand-alone accounting system, and maybe doing MRP by hand with excel spreadsheets, or a stand-alone MRP system, this will be a radical change. The combination of MRP and accounting systems is actually how the term ERP was coined. ERP can also include many other modules like project accounting, human resources, CRM, etc.
When your MRP in Dynamics Business Central and the BC Finance systems are integrated, all your activities are easier. Activities like entering purchase orders or sales orders are going to dramatically reduce the time required by finance to invoice. The documents were already created, and finance spends more time just "approving" what is there and much less time keying things in.
MRP in Dynamics Business Central – What does it do
Ok, I've explained some of the basics of the system requirements (such as inventory accuracy) and the benefits (reduction of double or triple entry).
Now, what exactly does MRP in Dynamics Business Central do?
The basic function of the system (as I mentioned earlier) is to predict the materials you are going to require at a point in time in the future. From this, the system uses settings that you enter into the item cards (the master records of the parts you buy or make) and suggests purchase orders or production orders be placed.
What this means at a high level is your buyer or your planner runs the system (after it is correctly set up) and MRP in Dynamics Business Central basically gives them an actionable list of things to do. They select rows that are suggested by the system and "Carry out the action." The system will create a purchase order, or a production order – for the user – automatically. They get to review and approve these, but it is massive time-saving and dramatically reduces errors.
Need Some Help?
If you need help with MRP in Dynamics Business Central, give us a call at (519) 585-7524 x.45 or contact our team, we are looking forward to hearing from you soon! For a quick overview of the manufacturing modules of Business Central, you can check out my YouTube video introduction to Business Central Manufacturing.