Sabre's Deep History with Visual Manufacturing
Sabre worked with (but ironically never sold) Visual Manufacturing for almost 20 years. This was prior to switching our business over 100% to Microsoft Dynamics NAV (now Dynamics Business Central) .
In the period around 2009, we started to become concerned about the direction Infor was taking Visual. Our entire business was built around it and the decisions we were seeing worried us. We began a search for a new product to sell and service. By 2012 it was pretty clear that Infor was not going to invest significantly in this system. We decided we needed something more modern with a clear direction from the vendor.
We compared Visual Manufacturing vs Business Central (then called Dynamics NAV) to see if it was the product we would represent. We had years of experience supporting and customizing Visual. Our goal was to leverage as much of that knowledge as possible.
Sabre started as a Visual Manufacturing "rescue mission" company, helping customers that were having troubles with their implementation. We were founded in 1998 specifically to help Visual ERP businesses, who at that time had purchased it from Lilly Software Associates. Our claim to fame was that we customized the Visual system in ways nobody else would even try to. Our programming experience was really what attracted customers to us, along with report writing, our knowledge of manufacturing, and the training we did in advanced modules.
From our founding to about 2015, the vast majority of our revenue came from helping businesses with Visual Manufacturing. We became experts with the database and created hundreds of Crystal Reports and made thousands of QRP file edits. We trained users to implement MRP and other advanced features. We worked on EDI projects, and other integrations. We developed sophisticated customizations for time reporting or requirements consumption in an automated way.
Helping customers replace Visual Manufacturing with Dynamics NAV
Starting in 2014 we were helping customers replace Visual Manufacturing with Microsoft Dynamics NAV or Business Central. If you want to see some of the examples of our successes, two customers recorded testimonial video interviews and one a written testimonial (you can find them on the Sabre testimonials page). There are many more who are too shy to be online, but happy to discuss their conversion. As our business grew, Visual became less and less of our focus and by 2018 we no longer do any work on Visual Manufacturing.
For Infor Visual ERP customers, we bring a few huge advantages over other Microsoft Dynamics partners if they switch platforms:
Our knowledge of how Visual Manufacturing works lets us instantly show how to do the same thing in Business Central.
Dynamics NAV is extremely easy to program, so we added lots of "Missing" Visual features into NAV and now Business Central.
We know the Visual database tables, so we really shorten the time helping customers move data from Visual to Business Central.
We've seen all the different work arounds customers had to overcome the limits of Visual. We go right to those areas and show customers how to do better.
There are many reasons to replace Visual Manufacturing ERP today, and we definitely are experts if you choose Business Central as that new ERP.
3 Differences when comparing Visual Manufacturing vs Dynamics NAV
When you are looking at the differences between Visual Manufacturing vs Business Central you need to focus on several areas.
You have differences that are based on the technical design of the two software products
You have differences that are based on the functional capabilities of the out of the box products
You have differences due to the available addons and extra modules that are available.
Let's look at each of these areas of comparison below.
Visual Manufacturing vs Business Central Technical Differences
Visual Manufacturing is (to be frank) pretty old technology. The actual architecture of the software "under the hood" is based on a design from around 1992. At Sabre, we first worked with the late 1990's version of Visual, and to be completely honest not much has changed since then. Infor Visual ERP is frankly in a technological dead-end.
Comparing Visual Manufacturing vs Dynamics NAV is like comparing a K-Car with a Tesla. Microsoft is investing hundreds of millions (really billions) in their cloud technology platforms, and Business Central is part of that investment and benefits greatly from it. Cloud manufacturing ERP systems like Business Central have capabilities that simply can not be added to Visual. You can't retrofit its technology to make it cloud. It needs to be rewritten from the ground up.
There was a fairly infamous presentation done at the Inforum conference in 2011 or 2012 (there are comments in LinkedIn that refer to it, but all the press releases and information have since been removed). This talk announced that Infor was canceling their cloud implementation of Visual in favor of the Infor Cloud IX platform. That really does seem to have been the direction they went, as 9 years later there still is no plan to make Visual a cloud-ready ERP.
Visual Manufacturing vs Business Central Functional Differences (out of the box)
We've created an InfoGraphic to show the differences between Visual Manufacturing vs Business Central in a more graphical form. We're including the features that 95% of our past Visual Manufacturing customers would use or would be interested in having in an upgrade to new technology.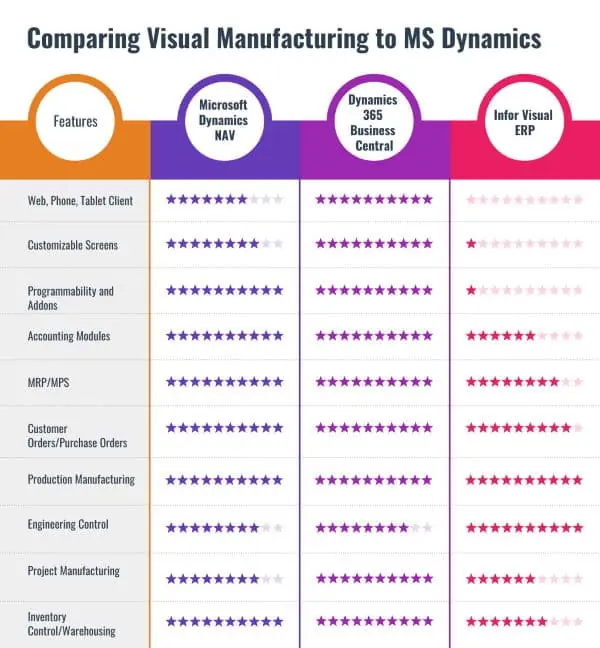 There are a few really advanced features of Infor Visual ERP that Microsoft Dynamics NAV / Business Central won't do out of the box. Some of these are things like the global scheduler. That might seem like a big problem, except that over 90% of Visual clients don't use that module. Also, the addon modules like Netronic Production Scheduler that are available for Business Central at a fairly reasonable extra cost are way, way better.
Visual Manufacturing vs Business Central Addon Differences
When you compare the Visual Manufacturing vs Business Central addon market, the differences can't be more stark. There are literally over a thousand add-ons for the Business Central product, and that count is growing at a very rapid rate. If you exclude addons by Infor themselves, there are perhaps a dozen or so that specifically work with Visual. Infor has a group of their own add-on modules (such as CRM), but most of them don't work with Visual. Infor does not give Visual the serious investment it used to get from Lilly. It is definitely a dying product.
Summary | 6 reasons to replace Visual Manufacturing with Dynamics NAV
Technology Dead-End Dynamics Business Central is a true cloud Service Oriented Architecture. This is something Infor has offered for since the late 2000s but never delivered. The client-server platform Visual is built on couldn't be enhanced back then, and it's no different today.
Cloud ERP Comparing Visual Manufacturing vs Business Central means looking at one technology that simply cannot be moved into the cloud, and one that is fantastically successful in the cloud. If you want to prepare your business for the future,
AppSource Business Central has many, many (1270 as of this writing) add-ons available in the MicroSoft AppSource. A few months ago it had 1000 available. This is just like having an iTunes or Google Play store for your ERP. Visual is extremely limited in what addons are available because it's terribly hard to customize.
Changing Needs Visual is old technology, and most businesses bought it some time ago. If you were to look at Visual Manufacturing vs Business Central today, likely you would not pick it. If your business has changed (it has!) and Visual has not (it hasn't!) then maybe it's time to change.
Power BI Business Central and other modern ERP also have more modern reporting. The ability to use these way more affordable and usable technologies is very limited with Visual,
Customize vs Compromise The biggest complaint we had with Visual was constantly needing to compromise to "run a business the way the ERP forced them to." Comparing the customization options between Visual Manufacturing vs Business Central, it is night and day. For those worried about upgrade hell if you customize, that is a thing of the past. Customizations are upgraded easy as pie by Microsoft, monthly, without you needing to worry about it.
If you are interested in learning more about the Business Central manufacturing modules, read Everything you need to know about Microsoft Dynamics 365 Business Central Manufacturing Modules.
Need some help?
If your business is running Visual Manufacturing and you are looking at Dynamics Business Central – you should contact Sabre. Sabre has entirely open pricing on our Business Central Training page. If you are interested in Business Central for your manufacturing business, our expertise with manufacturing is something you should definitely feel confident in. Give us a call at: (519) 585-7524 x.45 or contact our team, we're excited to talk with you!