Business Central is used extensively for manufacturing, and especially for production manufacturing. The production modules are extremely well suited for Business Central make-to-stock as well as make-to-order manufacturing. This article is a brief outline of some of the key modules and features out of the box, as well as those addons that Sabre finds, are most commonly needed in this mode of manufacturing.
Some of the features we discuss require the premium version of Business Central. You can learn more about the differences between the essentials and premium modules in our blog on the topic.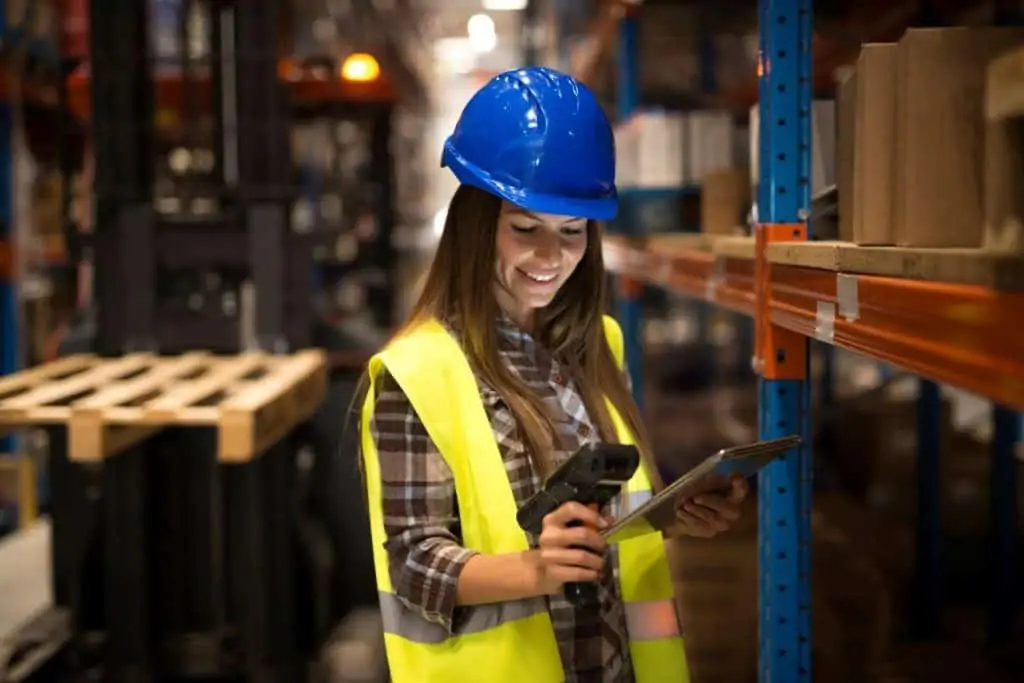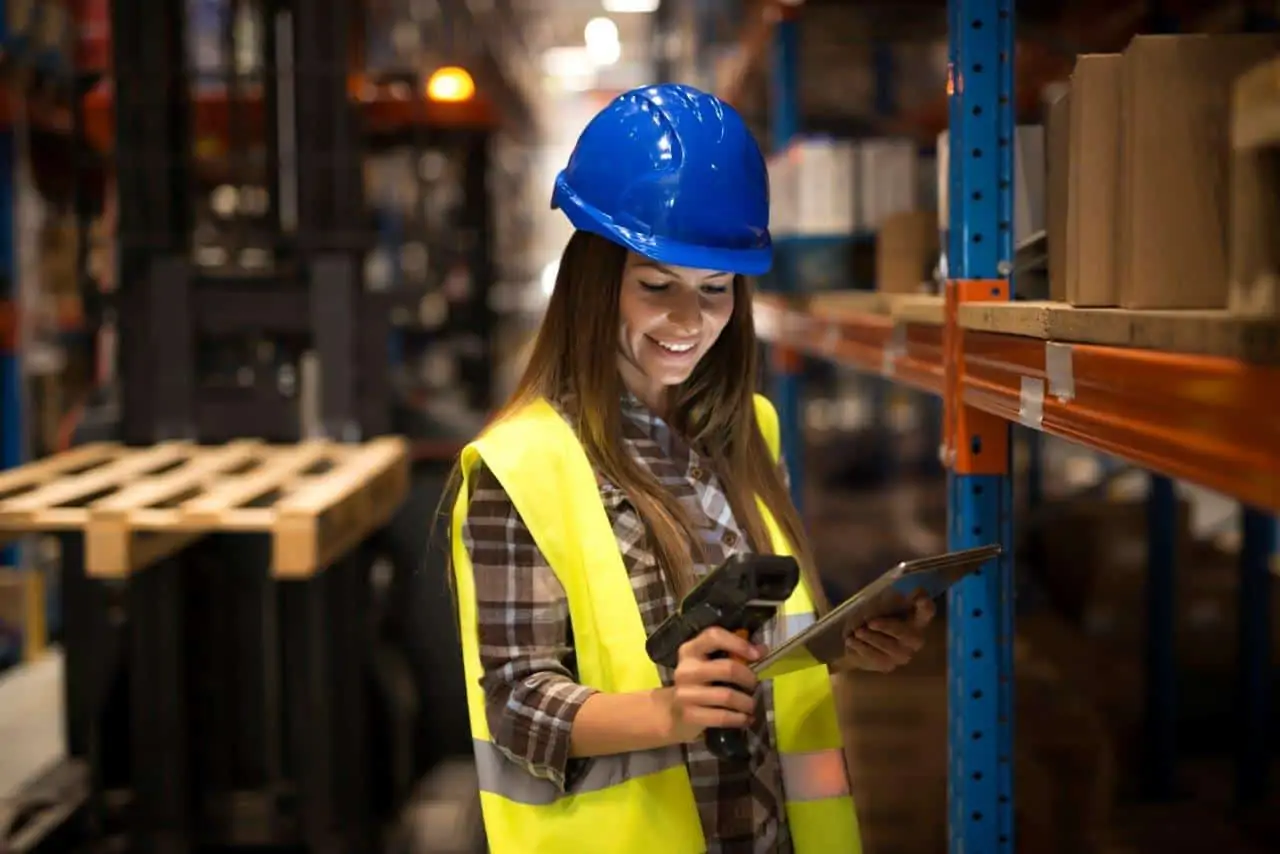 Warehouse Management in Business Central
Make-to-stock manufacturing in Business Central has the most significant requirement for inventory management and warehouse control of any of the modes of manufacturing that Sabre works with. This is because Business Central make-to-stock manufacturing involves maintaining an inventory of fabricated parts, and often semi-finished goods at all times. A business like this is not just making parts when a customer places an order. They are building inventory for customers in advance.
The sophisticated warehouse management capabilities of Dynamics 365 are out of the box, except for the barcode scanning software and scanning hardware you might need.
You might respond to this statement with a comment like "What do you mean except barcode scanning software? That's the most important part!" and in a way, you are both right and wrong. We have worked with many other ERP systems that don't have the foundation of warehouse management. With those systems, the barcode scanning technology (not the hardware) can run upwards of $50,000 to implement. With Business Central the added cost of barcode scanning software is a fraction of the cost we have seen elsewhere.
Business Central comes out of the box with the core components needed. Adding whichever barcode scanning software works best for you is more of a peripheral rather than an entirely new system.
Out of the box, Business Central make to stock manufacturers gain access to:
Warehouse Locations
Warehouse Bins
Warehouse Pick Orders
Shipment Orders
Put-Away Orders
Warehouse Receipt Orders
Cycle Counting
Warehouse Move Orders
The inventory managers have full capability to manage and control what happens on the floor of their facility.
Business Central Production Management
Production management in business central is available only in the premium modules of the software. This module is a classic manufacturing system and is identical to the well-established production management in Dynamics NAV. Business Central make-to-stock manufacturers are most often using this module. Production management adds a number of key manufacturing ERP requirements and capabilities:
Bills of Material
Routings
Finite Scheduling
Make to Stock or Make to Order based
Machine and Work Centers
Production Order execution (Simulation, Planned, Firm-Planned and Released status)
Capacity Planning
Outside Service planning and execution
Production management needs augmentation with some apps to round it out depending on the needs of the customer, but overall it's a strong system.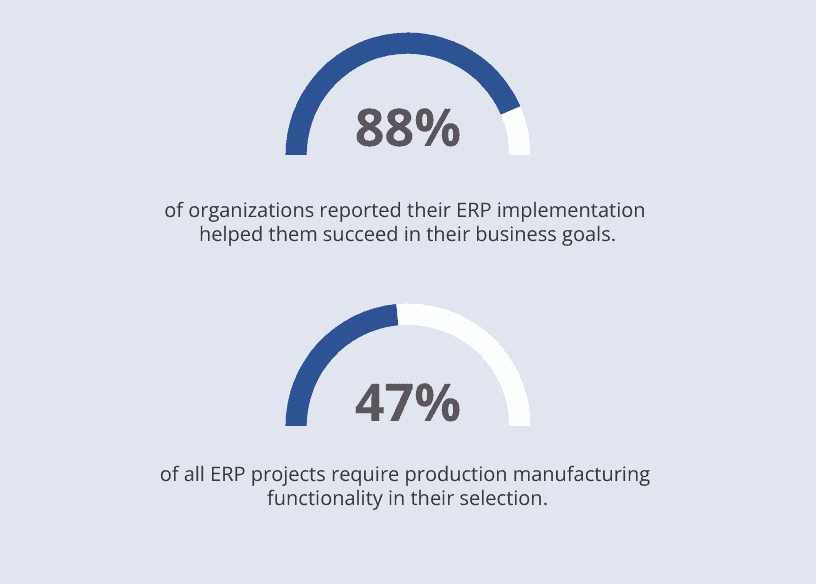 Business Central Assembly Management
An alternative to production management, some smaller or simpler make-to-stock manufacturing companies can use Business Central assembly management as an alternative to production management. Assembly management has some but not all of the same features.
Bills of Material
Make to Stock or Make to Order based
Assembly Order Execution (Open, Released and Completed statuses)
Resource Planning
As you can see, Assembly Management does not include the outside service planning and execution, does not include machine or work centers (resources are similar but lack the sophistication), and does not include routings. Assembly orders do not work well in Business Central make to stock when the production process is multi-step and follows a well-defined routing sequence. It works best when the production process is a single step, or you create an item for each semi-finished step in manufacturing.
Business Central Planning Worksheet
The Planning Worksheet is the Business Central MRP module and is a critical part of Business Central Make to Stock manufacturing. Inherent in this are forecasting capabilities, as well as all the standard MRP item planning factors needed to run a full end-to-end MRP.
Planning Worksheet is a bucket-less MRP, meaning that it does not divide the MRP plan into equal periods of time that all purchasing would fall under. Instead, the item planning factors control the frequency and calculation rules that are used to generate Planned Orders. The key features of MRP in Business Central are:
Sales Forecasts for SOP planning
Master Production Scheduling (MPS)
Material Requirements Planning (MRP)
Item Factors : Safety Stock, Safety Leadtime, Minimum, Maximum, Order Multiples, Replenishment Type, Planning Type
Lot for Lot planning : with Reorder Frequency, Lot Accumulation Period and Dampener settings
Reorder Point Planning : with Reorder Point, Reorder Qty
Sabre works closely with customers implementing these features as they are among the most powerful and difficult in Business Central.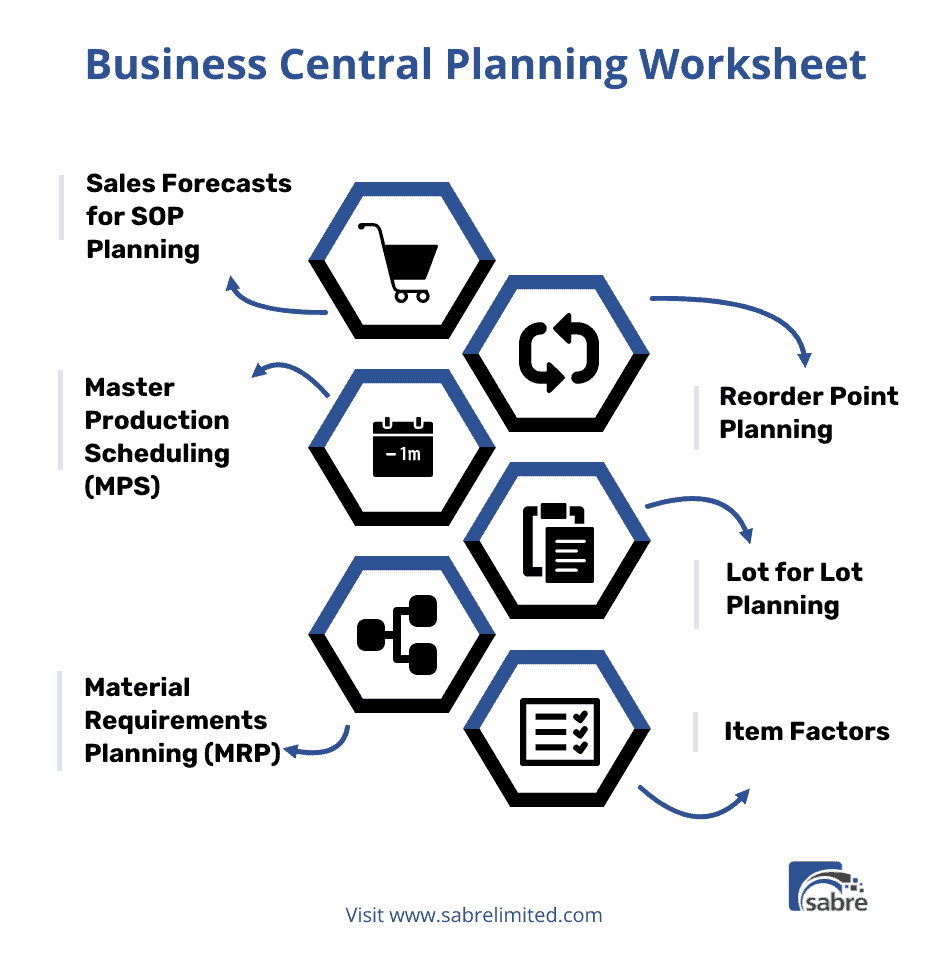 Netronic Production Scheduling
The most popular production scheduler addon for Business Central as of mid-2021 is the Netronic Visual Production Scheduler and the more enhanced Netronic Visual Advanced Production Scheduler. The VPS and VAPS are designed to allow customers to visualize, manipulate and plan their scheduling of production within the system.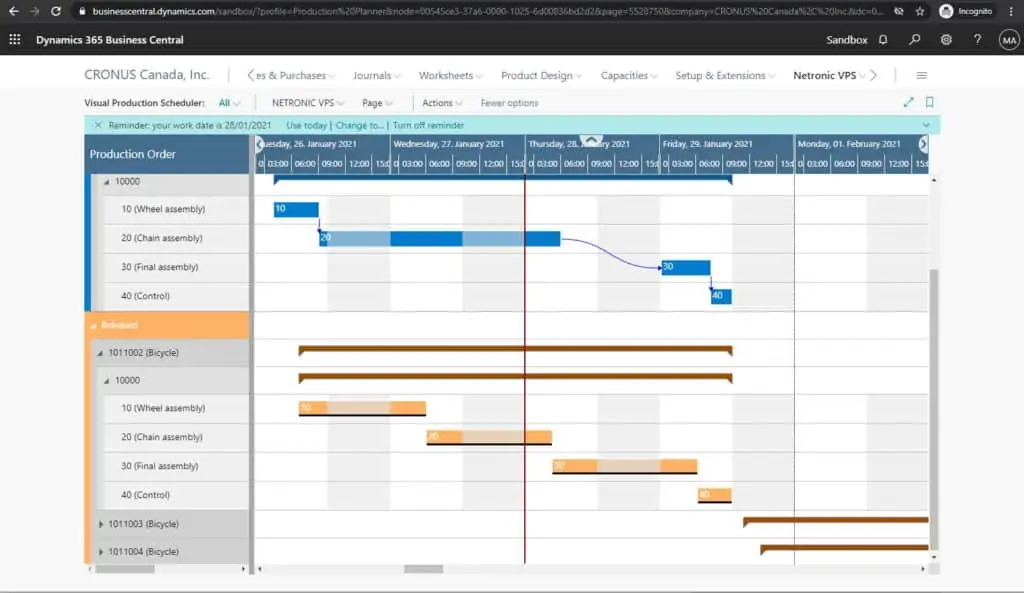 The VAPS system adds an advanced finite capacity planning capability to the regular VPS – which is meant to be a visual drag and drop system. For those customers who need the ability to view and automate their scheduling processes, these two products are highly recommended by Sabre.
InsightWorks Shop Floor Insights
Business Central make-to-stock manufacturing generally involves a high volume of production and a large amount of shop floor data that is required. Manufacturing execution systems (MES) are usually used to gather that data from the shop floor after the production orders have been created and scheduled. The Shop Floor Insights solution from Insight Works is the industry leader. Sabre is a certified implementer of InsightWorks products and as such we strongly recommend the product.
Shop Floor insights adds a number of capabilities that greatly enhance the standard production management module:
Quality data collection and reporting
Real-Time Labor reporting
Electronic dispatching and eTravelers
Access to drawings and other "attached" documents for shop-floor staff
Material usage reporting including scrap and damaged materials
Receipt of finished items, including with Lot No. and Serial No.
Shift configurations and rules for payroll and time and attendance use
Supervisor review and approval
YouTube Video | Dynamics Business Central Manufacturing Overview
This Sabre video overview of Business Central manufacturing is another overview of some of these features and functions.
Conclusion
If you are considering Business Central make to stock for your business, don't hesitate to reach out and contact Sabre for more information. We believe this is a strong cloud manufacturing solution with end-to-end capabilities augmented with AppSource solutions specifically for manufacturing. Sabre Limited is famous for our fixed fee implementation model, exclusively designed for manufacturing. We work in combination with the out-of-the-box features of Business Central manufacturing, as well as selected 3rd party apps.
Our expertise and knowledge of these products are part of why customers choose Sabre. We work with product vendors to deliver best-of-breed ERP implementations that are right for your business.
If you need help with a Microsoft Dynamics manufacturing implementation, either Business Central or Dynamics NAV, where you or your partner are struggling, give us a call at: (519) 585-7524 x.45 or contact our team, we're excited to talk with you soon!